Hello!
Here are some photos from Universal Studios on Sentosa Island in Singapore.
You can tell it's still in its soft opening stage. Not all rides are open and during the day, two rides were closed for a period of time for repairs.
It was still such a fun day and I would recommend it. I think tickets were only around $35 because it's still in its early stages.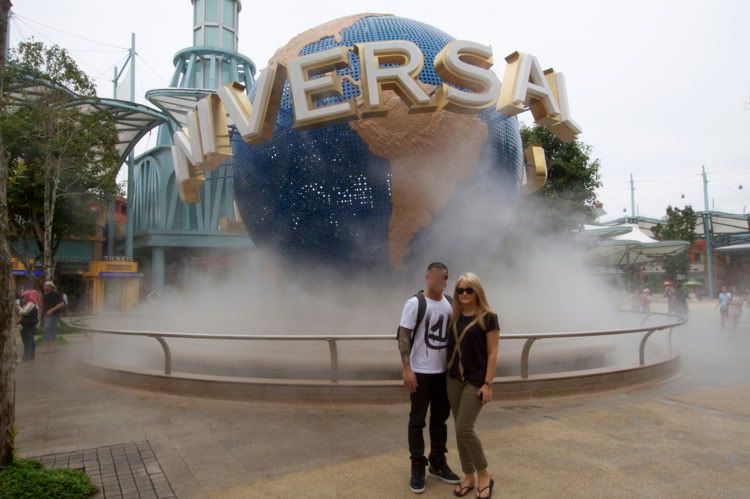 Universal Studios did NOT have enough novelty food like Disneyland does.
We need more trashy goodness!!
I thought this photo of D and K2 hilarious.
Hahahaha!
We got buckets of popcorn to eat during ride lines.
However, there were no lines all day. YAY!
We went and watched the Shrek 4D movie which was lots of fun!
I may have screamed like a baby.
We ran over to the Jurassic Park ride to find out that it was closed for repairs. I had a tanty.
K2 and I took a photo looking like dinosaurs though.
So did K1 and D but theirs was inferior so I didn't post it. HA!
I went on this dinosaur ride while the other guys went on a roller-coaster.
I was too scared to go on it.
I was scared on this kids ride to be honest.
I am woosey.
This is the "main street" area that is supposed to look like NYC I'm assuming.
None of the shops are open yet though.
Balls.
Although there was a hat shop.
I tried on a Pharaoh hat and did my best impersonation.
We ate in this cool 60s diner place and listened to Elvis.
Here is me at Shrek and Fiona's castle!
We then went back to the Jurassic Park ride which had been fixed!! YAYYY!!
The sign said "You may get wet" so we bought some ponchos to wear!!
HOWEVER
IT DID SWEET F ALL AND LOOK HOW WET I GOT.
THIS WAS WHILE WEARING A PONCHO!!!
Imagine if I didn't wear a poncho.
So with my hair ruined and clothes INCLUDING UNDERWEAR being soaked we decided to walk around to try and dry off.
U.S should REALLY have hairdryers at the exit of the ride. They dont even have the hand ones in the toilet that you can put your head under.
We left U.S and next door is a Hershey's store.
We decided not to buy anything though because it would melt in the heat.
Then we went over to Hard Rock cafe for some cocktails and nachos!
YAY. I had a traditional margarita. I love them. mm salty.
Still soaking wet.
Sitting in air con while wet is balls.
At least you can see the cool shoulder pads on my tee shirt!
Then on our way back to U.S I bumped into a Reese's Peanut Buttercup!
YAY
Then a few minutes later some more characters came out!!
I dunno WHAT D is doing to that Hershey's Kiss.
Weirdo.
Maybe trying to eat it?!
Then we went back to U.S
The main rollercoaster was broken down but looks how scary it would of been!
WAH!
My friends all went on The Mummy ride a few times and loved it! I was too scared.
We went back to the Jurassic Park ride and I think in total, we went on it about 8 times. AT LEAST.
The staff thought we were nutsos.
By the end of the day we were all HEAD to TOE SOAKED.
We couldn't be any wetter.
We all stank of chlorine.
It was 7pm and we weren't drying so we jumped in a cab home.
It was disappointing not to have a Parade or Fireworks at the end of the day like Disneyland does,
but maybe they will introduce this after their full opening?
I'm not sure.
The Park is VERY small and hopefully it will be expanded over the years.
It was still a fun day though! All due to the company I spent it with.
Thanks guys!!
:D
(btw if anyone is interested,
S&B Tee
Zara Pants
Hav thongs)