Helloooooo.
I'm in Perth right now and got some new S&B stuff from the resort collection. Can't wait to wear them all! I will try and take photos to share. ayaaya.
I got PANTS. I am wearing pants all the time these days. Random!
Okay. Back to Bali.
Here I am in the Lobby looking down at the ground.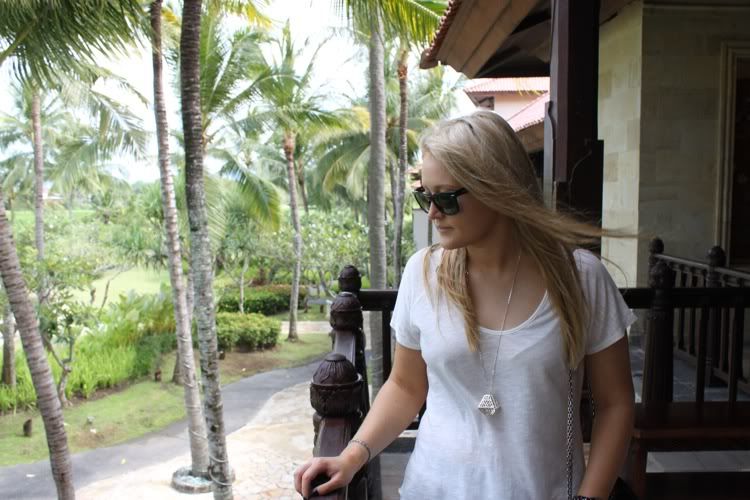 Here is what I am looking out at.
Can u see the temple in the distance?
I never made it down there to visit up close.
What a pity. Hopefully next time I can!
Wikipedia says it's from the 15th century.
Impressive.
Here is the only photo I have of my Bali Pants.
I had to over expose it so you could see them.
How funny are they?
I love them.
I got them from Supre.
I got them for wearing around the resort but now I really want to wear them back in Melbourne.
I miss my Bali pants. I want to wear them now. :(
Here are some hotel workers setting up for a wedding.
Everyone naturally hassled D and I. Blah.
I'm not getting married any time soon OR in Bali.
Here are a lovely bunch of coconuts.
I ordered one. It's coconut water and not milk.
I read that they have 3 x the amount of electrolytes as water.
My dad poured dark rum into it and half a glass of long island ice tea.
It was then deemed " the most disgusting drink EVER"
and had to be thrown out. No one could drink it.
I now know not to let my dad near my drinks.
Here is one of the bajillion pools at the resort.
I wish I got some photos of all the pools and the water slides.
D and I were obsessed with the water slides like 10yos and played on them for hours.
I was sore the next day.
Why can't they have a chair lift for water slides?
CAN YOU SEE ME IN BETWEEN THE DRAGONS?
UAYAYYAYAYAyaayaaa
Hello Pinhead!!
One night we went for dinner and drinks at the The Legian. I didn't get any photos of the hotel. What a pity. It was lovely.
I ate this tasty tofu dish.
It was right on the beach and we walked down there to have a look.
There was bats swoopin all over the place!! Wahh I got scared I was going to get rabies so I ran back quick.
As a result, in the photo I look like a ghost.
I hope one day this photo turns up somewhere as a ghost photo.
Oooooo SPoooooKkkkyyyy!!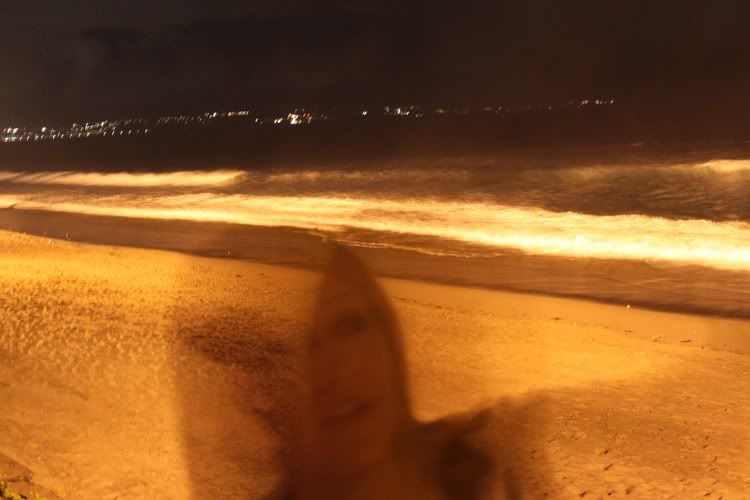 I want to go back to Bali ASAP!