I know what you're all thinking.
I don't live a this place.
It's just the best bar in Melbourne. I can't turn down an invitation to go to Siglo. Everyone who knows me, knows this.
YAY
Dry Manhattan.
Cherry is a must.
Once they put an orange twist in it. What the hell were they thinking?
I threw it across the table in true diva style. Hahaha. What a baby I am.
I am usually pretty chill, but if you make a crap cocktail then I loose my cool.
Cocktails are so stupidly priced, EVERYWHERE, so they must be made to perfection.
I had an average mint julep the other day. It made me mad.
Anyway, back on topic,
Manhattan goodness below,
Does drinking Manhattans make me butch? I think it does. I don't care. I love them too much.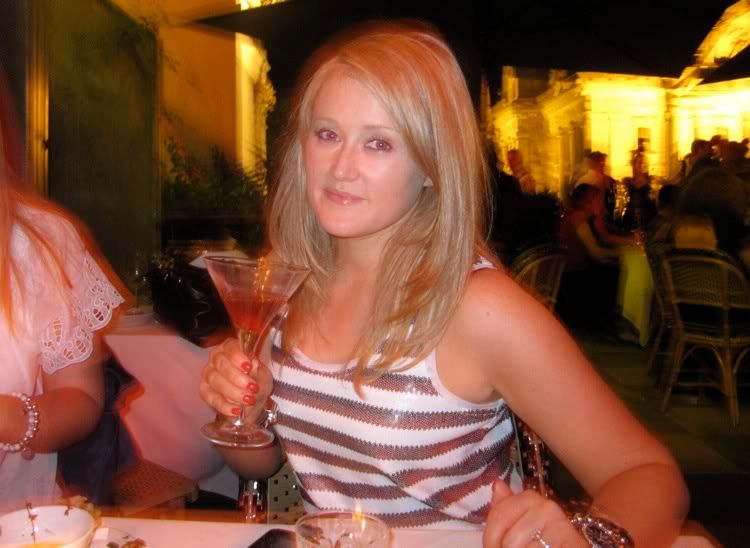 Notice how crap the photos are? It's because my friend A took them. She is the worst photographer. I have asked her to take photos for my blog a few times and they have all been unusable. All out of focus. Or like, I'm not even in frame. Hahaha she will get angry when she reads this. Love you A !!! love love love *pats head* She is cute.
Anyway, look above again and notice my top. It's ALL sequins. YES. SEQUINS but MATTE sequins. Matte sequins are the best of sequins. I got this top from the mature lady section of David Jones. I love that section. D gets so annoyed when I shop there.
Whatever, the clothes are cheaper and good and no one else wears them.
WIN WIN. If this top was in the young womens fashion area it would be like three times the price. Rude.
After quite a few Manhattans, I decided to switch it up and try this supposed "drink of the gods" - an Amaretto Sour.
It came in a martini glass and that confused me, because it's not a martini.
I put my Alpha 60 pleated scarf back on to hide my armpits. Armpits remind me of something I don't want to be reminded of.
I would say the Amaretto Sour tastes like a box of Nerds in drink form. Which is good. I enjoyed it. But don't smell it. It smells like wet dog. Everyone on the table agreed.
I don't know how that happens? We had two on our table, one neat and one with ice and the one with ice smelt more like wet dog.
Weird huh?
So if you like Wonka Nerds, then you must try this drink.
I will try this drink again. It is fun and it's nice for summer time.
While I am on the topic of Siglo, I have to tell you all something.
They have the best Vegetarian Spring Rolls in the world.
This isn't an exaggeration. This is a fact.
I hate spring rolls, fried food and coriander and it's all three but I am obsessed with them.
Please everyone try them and tell me if you agree.
Okay next topic,
I am going to share with you my favourite salad. I make it a lot. It's the best.
YAY!
Here is a photo I took of it so you can get the idea,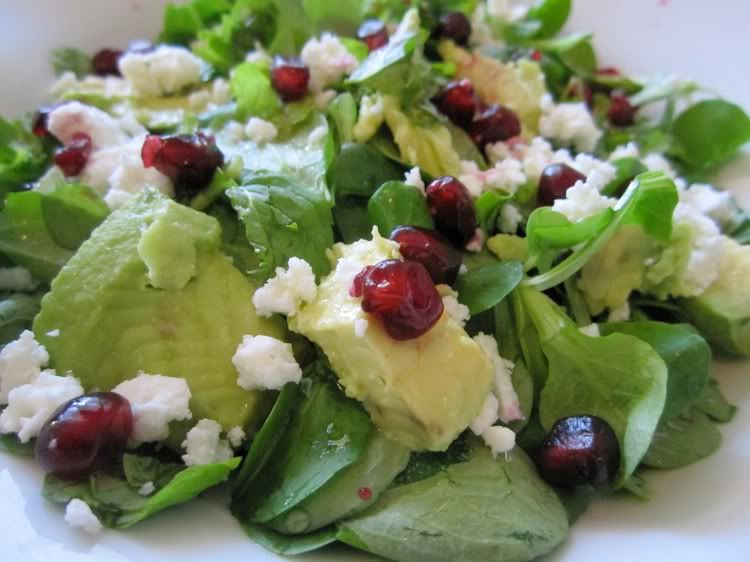 Okay
Ingredients List:
Mache Rosettes ( This is the name of the lettuce you must use. any other lettuce will destroy it)
Feta ( Dodoni only, use other feta at your own risk but make it a good creamy one )
Pomegranate (Fresh only)
Mint Leaves
Salt ( The good stuff you grind )
Olive oil ( Don't get cheap here either its the only dressing used so you will taste it)
Avocado ( Apparently they are like $4 each now so you can go without if you like)
You can also use peas if you want to make it more filling. Please no frozen peas. Only fresh. Frozen peas will ruin it. You will get what I mean when you try it)
Okay
So basically,
You just throw it all in a bowl.
Make sure when you cut the pomegranate you don't wear a white tshirt.
Pick all the weird white stuff off them too.
Make sure you wash the mint well and shred it nicely. Or you can use the whole mint leaves but make sure you take them off the stalks.
Mint is very important to the recipe. Don't leave it out. Use LOTS of mint in it.
Yess
I hope I explained this well. I don't use recipes ever, EVER so I don't know why I thought I could write one.
If you have trouble finding the lettuce, go to Coles. It is always at Coles. Haven't seen it at Safeway before... It's usually in the area where the lettuce is in a plastic wrapping on the shelves.
Seriously,
Best Salad Ever.
EVERRRRRR!!!!!!!!!!!!!
Hope you all have a great weekend!!!
Please all tell me your favourite cocktail, or are you not a cocktail person? Sweet? Fruity? Dry?
I don't like sweet cocktails so my top picks are
- Dry Manhattan
- Grey Goose Vodka Martini ( good olive or die)
- Mint Julep
YAY. You can't go wrong with this picks, unless you don't like your booze strong, then don't try these drinks.
Woooo!