A couple of weeks ago my dad and I went for a day trip to the Mornington Peninsula.
His mother lived there for a long time in her life so it's nice for us to go down there for memories. ahhhh. hahahha
Anyways, on the way there we stopped off in Frankston to see the Sand Sculpting Exhibit.
The theme was "Great Moments in History"
I took lots of photos but I'll only share a few, incase you go, and then it'd be spoilt for you.
Look, taataas. Hahahahahha
Immatuuureeeeeeeee. Yes I am!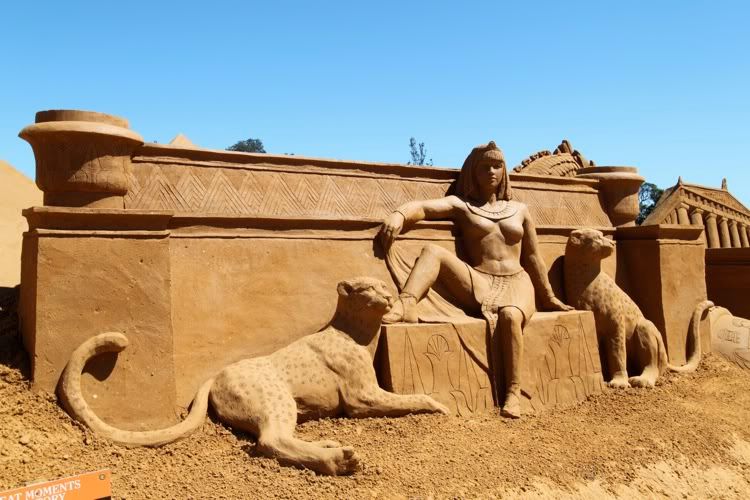 I liked the detail in the dragon. Impressive.
"Dad. Can you please take a photo of me?"
"Yeah sure"
*click*
Ughhh ok? What is this?
I think he finds technology challenging. Your supposed to click when I'm looking at the camera. I know D will say I was the bad poser. But I like to think that my dad was the bad photographer.
What was I doing anyway? Checking for tomato sauce stains? Possibly.
This was supposed to be great buildings in history. Does anyone know what the building is on the left with the hole in it?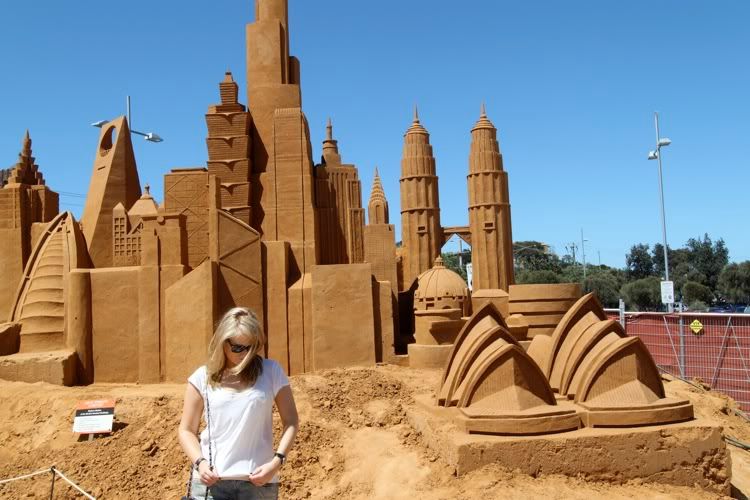 The sand sculpting exhibit is down there until April so check it out. All the kids seemed to love it. I was like mildly interested. Hahhahah No it was nice but it was gnarly hot and I don't like being exposed to direct sun with no shade. Sand got in my toes. etc. etc.
After we saw the sandy exhibit we drove down to Portsea for lunch.
I have never been to the Portsea pub before but I was suprised. I liked it.
The food came out quickly and I liked my meal. I don't usually like pub food. It's not really a great place to eat if you're a vegetarian. I had some sort of pesto pasta and a greek salad. They forgot the feta in the greek salad. I wasn't impressed. A greek salad without feta is like ughhh something without something that sucks. You get my drift.
Moving along... after we ate we had a beer outside and you can sit on this lovely grass....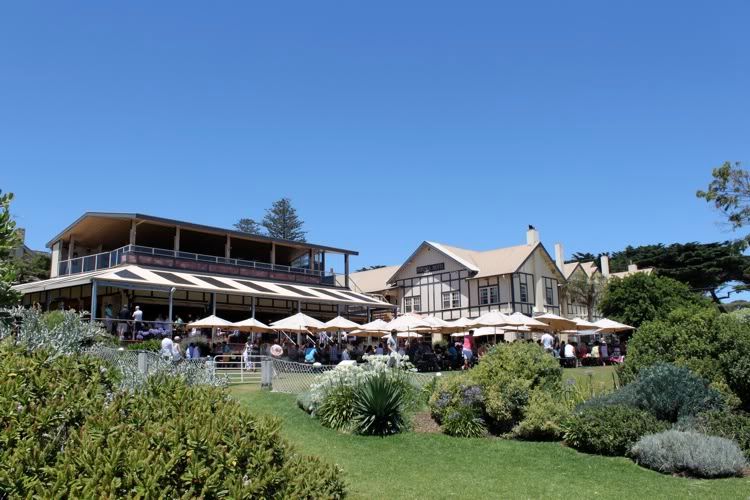 And your view is of the beach. Nice! You can walk directly down to the sand from the pub. Which I liked.
I took this photo and now as I look at it, I must of looked like some creepy perv.
But you cant see anyones face so its okay right?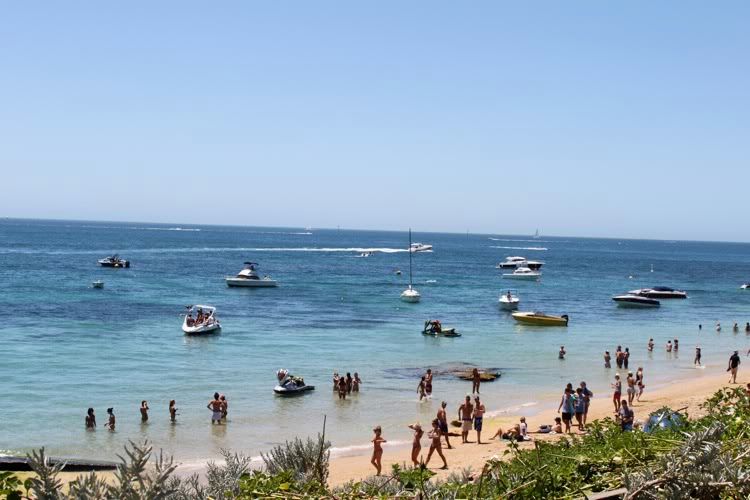 After lunch we went to the Boneo Maze & Wetlands centre...which had no wetlands. They said it dried out because of the drought. They should like, change the name or something. hahah.
I didn't mind. We did the maze. It was easy. We got lost for a bit and I got a bit scared so I just kept yelling " DDAAADDDD" like a crazy till I found him. hahaha
Anyway, no good photos of the maze. Sorry.
But I pretended to play monster chess in this photo,
It's not so convincing. Half the things are fallen over. I didn't realise this when I was posing for the photo. Dang
After that we drove to the Sunny Ridge Strawberry Farm. Ooohhh soo good.
We went strawberry picking. I was so shit. My dad found good ones.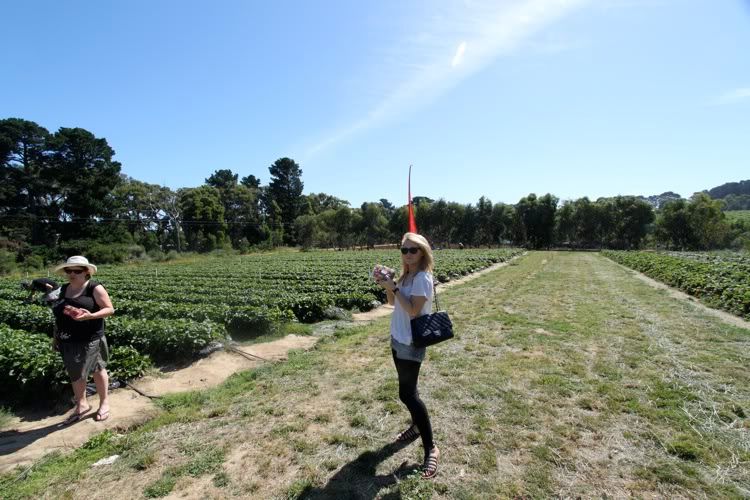 Close up ... well of course it is..hahah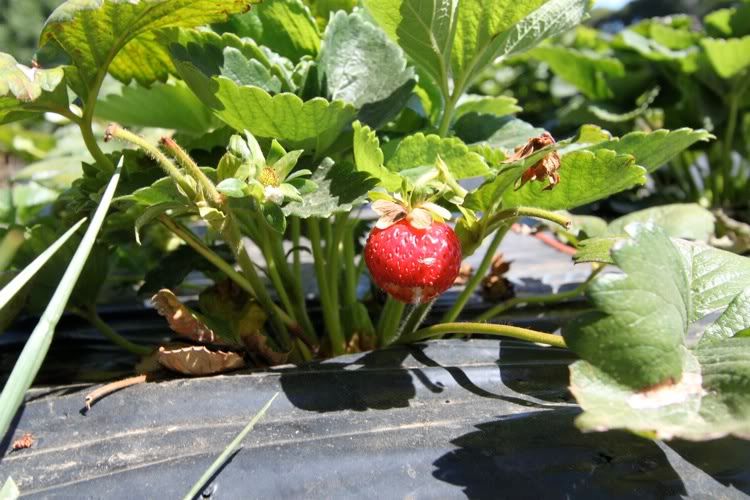 The strawberry farm was CRAZY packed. It was atleast 35 degrees that day and there was no aircon in the cafe area. People are crazy!
Anyway, if you are into strawberries check out their website
HERE
They do all these strawberry chocolate desserts and they looked amazing!!!
The wait time for desserts was 45-60 minutes so I gave it a miss and got strawberry icecream instead. Yummy. I should of taken a photo. But at 35 degrees there is not a second to spare with melting ice cream!
oooh
I want to go back so bad.
I have to convince D to come with me. He hates the Mornington Peninsula. He has no reason. I can't convince him with strawberry farm. He doesn't like sweets. Dang.
Maybe I'll have to find someone else to go with me.
Ok Stop rambling on.
I have ironing to do.
Happy Monday everyone!! :D Hope you all had a smashing weekend.
I had the best cocktail ever! A Mint Julep. I will drink this again.