Last week I went to the Melbourne Aquarium with a friend.
She wanted to see the baby hammer head sharks...or swim with them..or something. I dunno.
I agreed to go because I thought I would try new things this year.
The first exhibit when you enter is the penguin jail. I mean, penguin enclosure.
Maaaaannnnn. I felt so bad for the penguins.
What kind of life is this?
There is nothing for them to do.
It got me thinking " I wonder if penguins do much in the wild?" Do they just stand around.
I'm sure they don't tap dance like Happy Feet would like us to believe.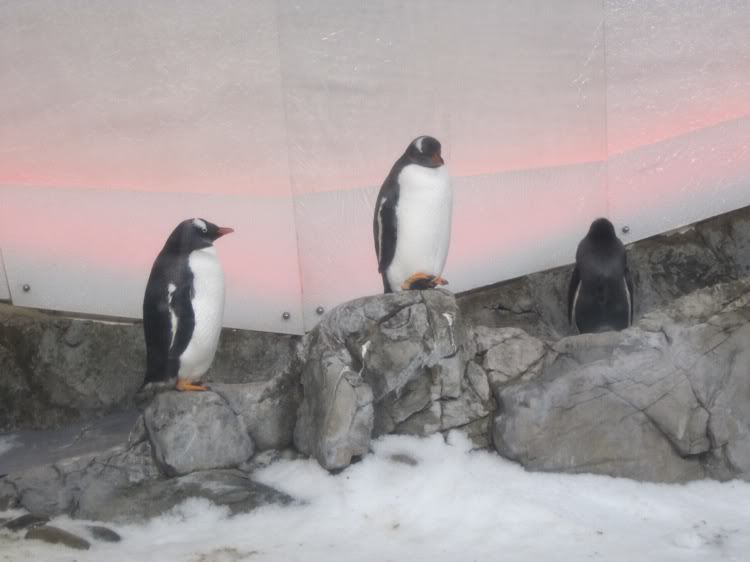 What is this penguin doing? Sleeping?
Haha. Clearly I didn't learn much about penguins.
I like the penguins with the yella best.
I liked to take photos of the ugly fish the best.
No one else did.
I felt bad for the ugly fish.
I could relate to them. HAHAHAH
This one was probs the ugliest.
I liked him best.
I want to get lots of derma fillers in my lips so I can look like him.
YAY
Maybe I'll take this pic to my appointment.
How cool are these little see through fish?
These crazy frogs were so green and bright in real life.
If I saw one in the wild, I would probably think it was fake!
PEACE SIGN!
Awkward face.
I feel like such a dick when taking a photo in public.
I hope people think I am a tourist.
Here I am wearing my birthday handbag. Cant really see it though.
For some reason there was a fake plane wreck on top of the shark tank.
Weird.
Opposite the faux plane wreck was some sort of tiki man.
Not sure how this is relevant to the aquarium but meh. I took a photo.
HAHahha.
How unflattering are downlights?
Who invented them? What was wrong with them?
Clearly a man invented downlights.
My psycho friend picked up the Starfish.
EW.
I poked it and then screamed and ran away. Like a little baby.
Hahhahaha.
I liked this cool sting ray.
or manta ray.
I dunno.
some sort of Ray.
It had a cool pattern and a long tail/ray?
haha
I dunno.
JELLY FISH.
I think.
A, are these jelly fish?
Who cares.
They are cool.
I see dead ones on the shore all the time when I take Taco to the beach.
Ew.
I poked on the other day.
D said it was still alive.
I dunno if I believe him.
HOW COOL IS THIS?
OCTOPUS.
YESSSSSSSS
ANDDDDDDDD
If you squint your eyes real good you can kind of see the HAMMER HEAD SHARK.
Kind of.
They were in a net so they couldn't swim with the fish.
How odd.
Why not promote them once they are swimming and we can actually see them?
JAWS!!!!!!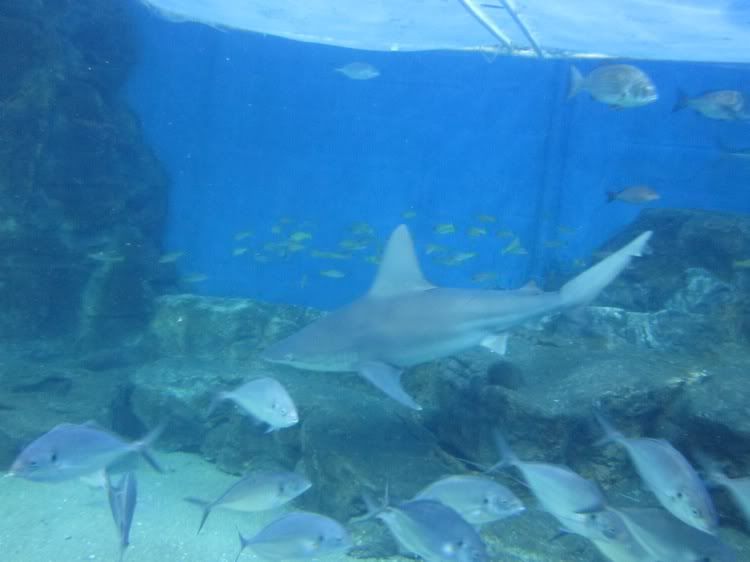 Hee heeeeeeeeee
Anyway.
It was such a funny night.
I think you should all go and look at the fish and protest the penguins.
It's such a weird thing for me.
I feel very weird about zoos.
I feel so bad for the animals and don't like them being caged,
but then you see how much the kids have fun and learn about animals.
I dunno.
What are your thoughts on zoos?
I feel so conflicted.