Hello.
It was my birthday a few weeks ago.
30th of December to be exact.
D got me balloons.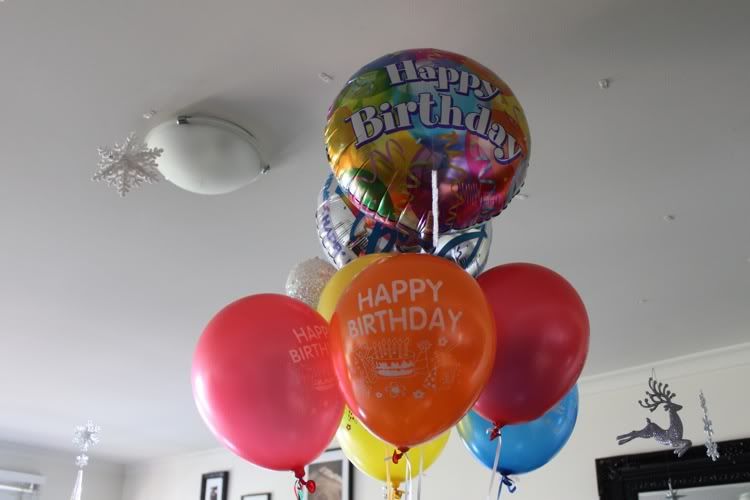 He also got me a cake for breakfast.
I find it hard to eat in the morning but I made an exception.
I wonder why he chose green candles?
He is an interesting one.
AND
I got a PRESEEEEENNNTTTTTTTTTTT.
yayayayaaya
I got a new purse
It's the baby version of the classic flap.
Forgot to take a photo.
Will take one soon.
Just imagine it for now.
We went to Nobu for dinner.
Where else? WHERE ELSE?
I think I only eat at the same 5 restaurants.
PEACE SIGN !!!!!!!!!!!!!!
I love Sake!
I find it so weird that people dont like sake.
SAKEEEEEEE.
mmm It's one of my favourite alcohols for sure.
I've never tried warm sake though. Too scared.
I want this cool roof feature in my house.
Some sort of weird crispy oyster dish that the meat eaters had.
One of my favourite things is maraschino cherries. Where can I buy these?
I can only find glaze ones at coles.
I had this shochu cocktail with an ice ball in it.
ICE BALL.
hehehehheeeeeee
Some dessertssssssss..
There was no photo of my outfit with crazy pants so you will have to look at a group photo.
I had to blur peoples faces because who knows if they want to be on my blog or not?
Probs not.
Is there some random lady doing a peace sign in the background?
That's kinda rude.
I just noticed.
How tacky.
I find it odd when drunk people like to include themselves in strangers photos.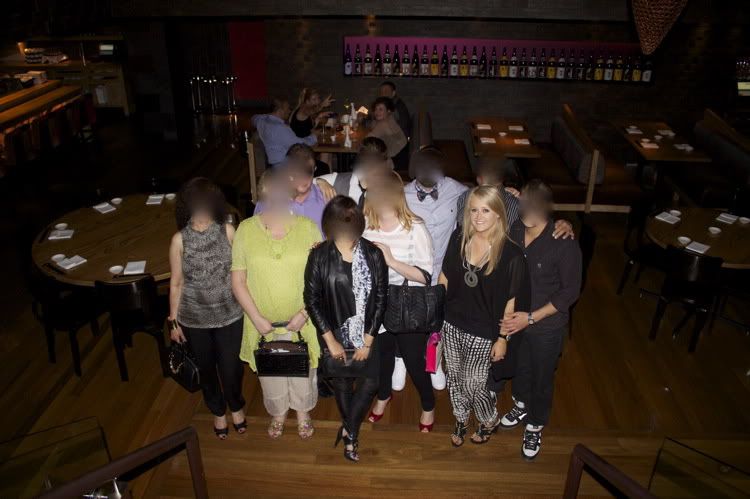 Crazy pantttttttttsssss!!
They make me look about 10kg heavier but I am trying to be okay with that.
I think I need to go back and photoshop the drunk bogan out.
She ruined my family photo.
Ha.
I also got the necklace I am wearing from a dear friend. I think it was from Alpha60.
See the pink bag I am carrying?
I also got an Alexander Mcqueen Scarf !! Woo.
Am I spoilt or what?
Thanks K1 & K2.
You guys are the bomb.
K1s grandpa just passed away this morning.
We will all be thinking of you sweetie!
xoxoxoxoxoxo