HAPPY FRIDAY!!
This week has been so busy and bleugh.
Family heath issues resulted in me helping to run a lunch shop and it was damn HARD.
Kudos to all you people who work in kitchens and lunch shops.
Dang. It's like 50 degrees in there.
I think I will be back next week too.
I can whip up a ham + salad roll like nobody's business.
Which is weird...because I don't eat ham. Hahah.
I can also deep fry potato cakes well.
Important skills to have in life!
I think my aunty is all in clear now so I am happy.
I haven't taken any photos this week so here are some photos from Perth when I was there 2 weeks ago.
Wah.
I look foul in them.
Hello regrowth.
Thank god I don't have it anymore.
I got my hair done last week.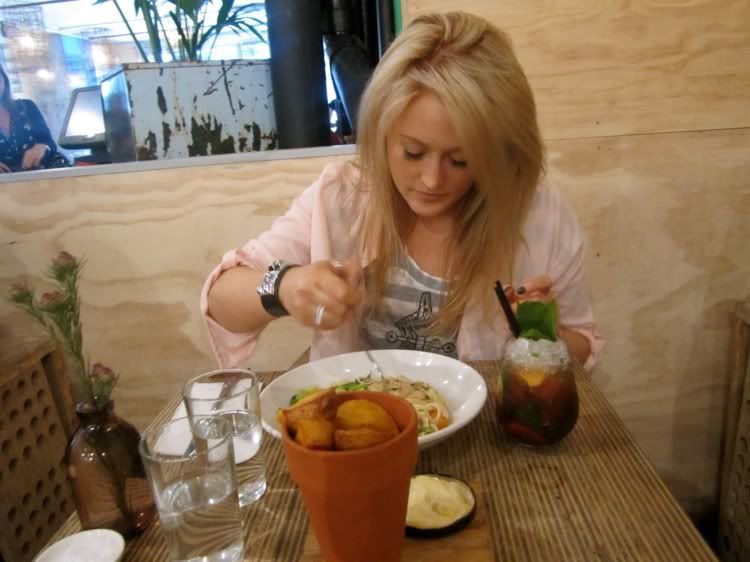 D and I went to Greenhouse in the Enex Building for lunch.
It was really average.
I think it'd probably be better if you ate meat.
There are no vegetarian options and the pizza oven wasn't working.
Lame
They made this.
I dunno where the taste was.
Bland Town.
Let's all laugh at D in his work attire.
HAHHAHA.
He looks a bit like a banker or something in the white collar.
Is that what its supposed to be?
I dunno. I thought white collar shirts where popular in the finance industry but I have no idea where I got that idea from.
Look at the potaties.
I LOVE POTATOES.
If I had my way I'd eat them every day.
Chips, mash, baked potati, roast potato with garlic and rosemary.
Ughhhh POTATIESSSSSSSSSSSSSSSSSSSSSS
BLARGH!
This was the only photo of what I wore so I will post it and embrace the fuggers.
It looks like I have no eyebrows or something.
I barely do.
I felt so weird in this outfit because I was wearing colours.
Every now and then I try to wear something that isn't black/white/grey but then I always feel weird.
WHAT A WORM
The pink shirt is Sportsgirl and the t-shirt is Evil Twin.
I sent these baby xmas tree decorations to my cousin last week.
This one says " Baby's First Christmas 2010"
I hope she liked them!
And I bought some cute new ones for my tree.
This deer? It is a deer right?
And this koala!!
How cute!
YAY.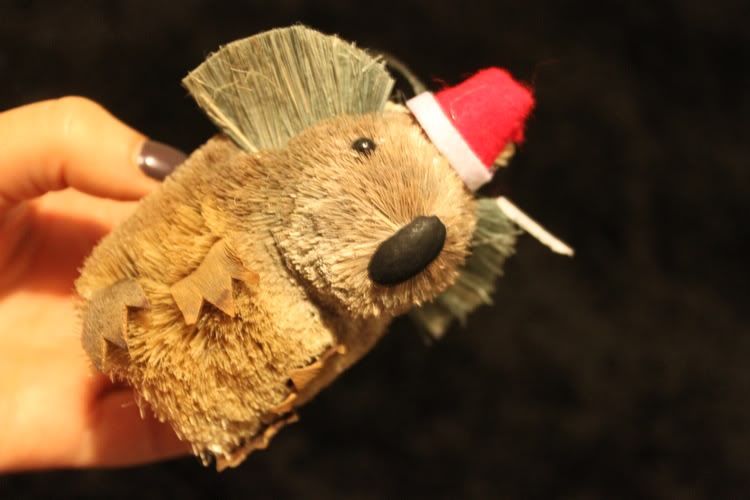 CANNOT WAIT UNTIL I GET MY XMAS TREE!
We went last week but the farm was closed.
LAME.
The farm doesn't open until Dec 1.
I WANT IT THIS WEEKEND!!!
I like decorating it and putting the lights on etc.
Wooo
I hope everyone posts photos of their trees this year!!
Or atleast tweet them to me!
I'd love to see them all !!!
Hope everyone has a lovely weekend!
:)
:)