Perth CBD becomes quite pretty at night because it's basically a ghost town.
It's nice to walk around a bit.
Xmas decorations are now being put up so I took some photos.
I walked in on a dress rehearsal for a choir.
They were doing all the wiring etc so I didn't get to hear the singing.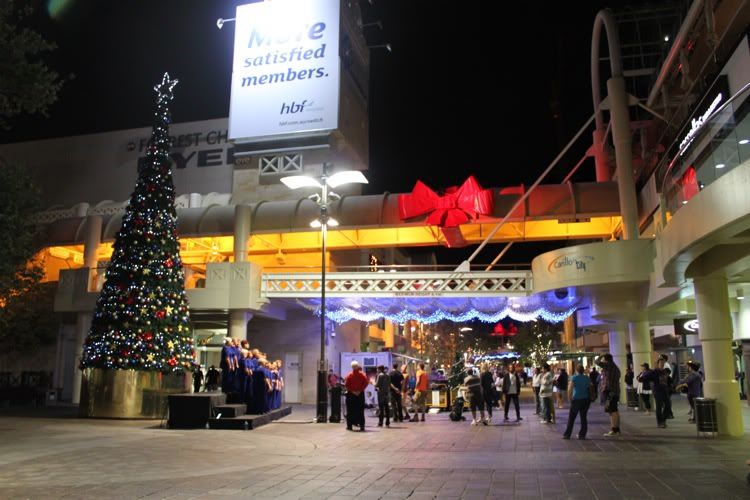 Some weird $2 fairy lights in the main strip.
I wonder if someone will rip them off before Xmas?
Most likely.
Ghost town....
This was outside of Myer/David jones at 7.30pm.
The always pretty London Court.
I wish there was good shops or cafes down here.
Such a pity that it isn't used to its full potential.
It's so cute.
I look so hagged after walking around Perth all day.
We spent some time in the hospital visiting D's new baby cousin!
She was so cute!
We went from the hospital in Subi to Northbridge for dinner and then walked all the way back to East Perth.
You can imagine how sore my legs were for the next 2 days.
$20 shoes that I got in Haji Lane in Singapore.
Yesssss.
They're so comfy and crap. I love them.
I will wear them a lot this summer. Unless they break in 2 weeks. Which is likely.
More of London Court..
Some weirdo sculpture thing they were putting up on St Georges Tce.
Pretty cool huh?
Reminds me of those things that suck your thoughts out in Harry Potter.
What are they called?
You know the ones that fly around and suck something from you?
It looks like those but in white.
I love this building in Perth!!
Can anyone tell me what it is?
I love that it changes colour.
It flashes all colours of the rainbow and then does a multi-colour thing.
It's like an all year round xmas tree.
Love it.
Here is the lobby of our hotel.
Which always confuses me.
Not sure how Lions and Elephants are relevant to Australia.
Oddest Lobby feature ever.
It's just so out of place.
Especially with all the indigenous art paintings around the hotel.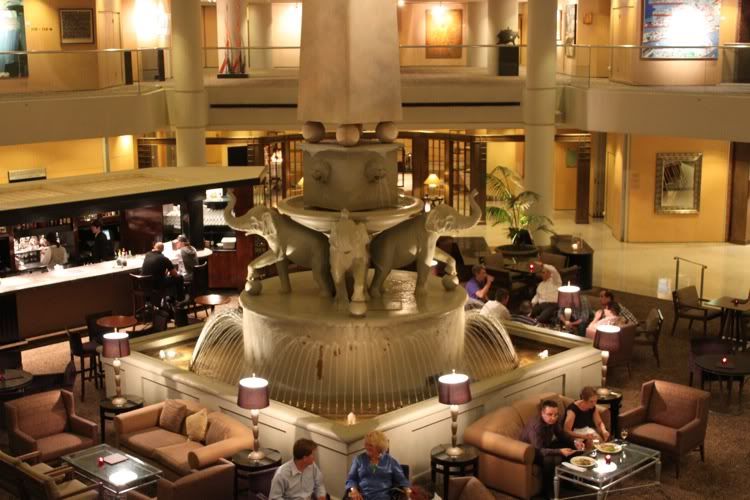 As we were walking back to the hotel in East Perth,
a tourist asked me where the main bit of the city was so he could go find a restaurant to eat at.
I kinda thought.....there is none.
HAHAHahha.
I never eat dinner in the CBD.
Is there a strip of eateries for dinner in the CBD that I don't know about?
I'm watching Junior Masterchef now and I NEED THAT GREEN DESSERT!
yesss.
Does Zumbo post to Melbourne?
Can I get that dessert sent to me and then the next day the Urban Remedy Juice Cleanse?
Hhahaha