On Saturday night I went for a bit of a dance with my girlfriends. It was the worst weather!! Just pouring down allll dayyyy. Almost like winter...
Anyways, the place we went to doesn't have a cloak room ( annoying) so I cant really wear a jacket...
I remembered I bought this jacket at the "Salvos" about 6 months ago and decided to give it a try. It's my first time wearing something second-hand or vintage. I like everyone else in vintage but it scares me thinking about the previous owner..... I should google the tag on this jacket because it was definitely from the 80s. Think black tag with gold writing. ha.
Oh and it had real shoulder pads!! So funny. I was going to rip them out but I thought they added funniness so I kept them in....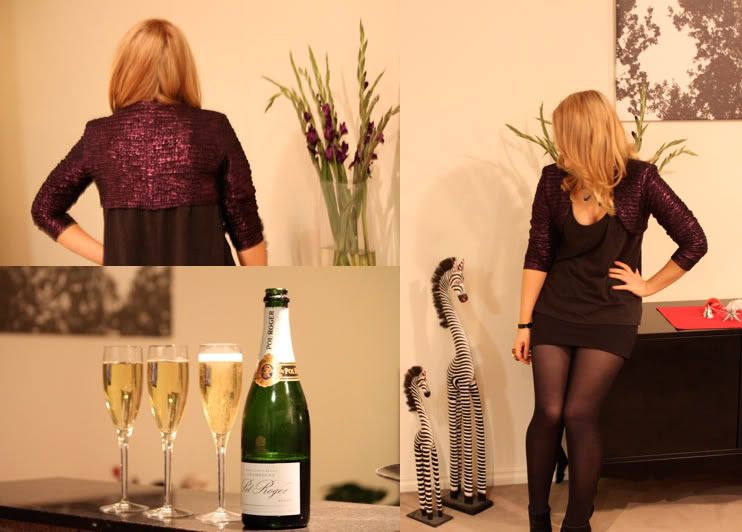 We popped a bottle of champagne before we left and I took a photo a la Porcelain Blonde. Sans ice bucket. Love her blog!
Yay my crazy zebras made it in the picture, and so did some random xmas decorations I'm sorting out.
Anyways, girls nights are always such a blast and I had an awesome time. It MAY of been because I finished the night with Lord of the Fries in Canadian gravy!! WOOOOOO!!!
Ohhhhhh and I'll just forget about the 1.5 hour cab line.... ahhhh.
Hope you all had a lovely weekend!!
Oh! And I was on Channel 10 tonight in the audience of the Dave Hughes special.
Woot!! I wanted to vomit at the start because it was all up in my face but now I'm over it.
Edit - Okay looking at this picture I can almost see my britney. I pulled my skirt down before leaving the house I promise.