Gahhhh Long time, No blog.
Yes I know.
My internet has been playing up and I have hardly spent any time at home.
When I've been home I've been checking your blogs and then run out of time.
Eeeep !
Anyway, BORING , back to post. hhaha
For Valentine's Day I suprised D by taking him to AC/DC on the Friday night. He was so shocked hey. It was hilarious. One of my friends picked us up and we were supposed to be going somewhere else and then we stopped outside of Etihad Stadium and he still had no idea.
I had to literally spell it out for him and I think his heart stopped beating for a good 30 seconds.
He really wanted to go but we missed out on tickets. Last week I heard my dad talking to his friend about how he had some spare so I snapped them out quick smart. SOOO glad I got the tickets and didn't have to get them off eBay scalpers. SO against that stuff!
Anyways, here is me rocking out. In the lobby area. HA. Off. My hair hated me that day. Frizz mania.
Oh and I wore my Lover tee that I always forget I own. It always seems to get lost in D's dirty washing pile. Eww. It has a snake and a rose on it. So good.
I wish I had a full outfit photo but my camera went flat after being in the arena for five minutes. Idiot. I hated myself.
Here is our marvelous seats. SUPER CLOSE YES?!!!
hahahah It kind of worked out good though because there was an empty section and we all got up and danced and did other hooligan type activities.
See all those red lights in the audience? They're all devil horns. People went nuts for them.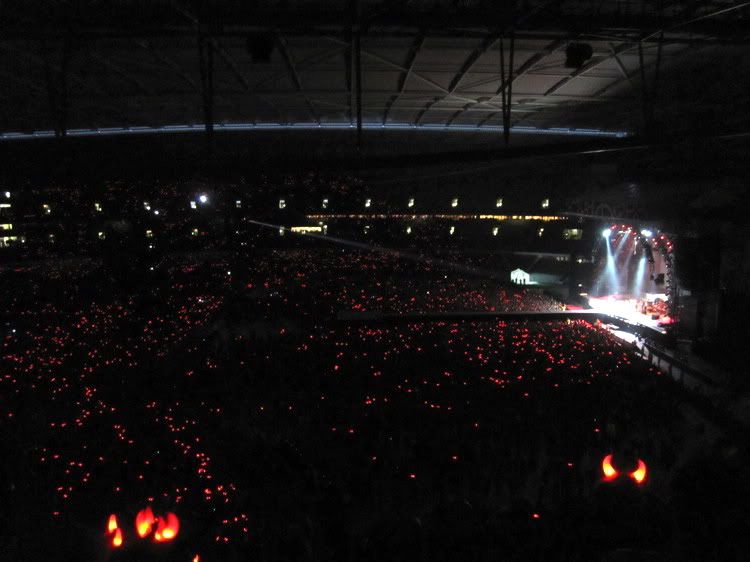 Here I am with some family friends that also came.
How super cute. They full LOVED IT.
Jet, the younger one wore construction site ear muffs during the concert. Safety first. haha
Morgan full loved Wolfmother. She danced. So super cute.
After the gig we went to "Back in the Day" which is like this 80s/90s rock club in the city.
So funny. It's fun to go there and rock out. I danced to Poison, Black Sabbath and Guns & Roses. It was tack-tastic.
There is a strippers pole in there and I was so disappointed that no one got on it. Boo Hiss.
We had the best night though! So funny. AC/DC was the best! So much fun!
Okay, Now onto the actual Valentine's Day,
After I woke up in a post boozey daze D shouted at me that I wasn't allowed to leave the room. TWO HOURS later I came out and he had set up a little breakfast for us.
How sweet. Thanks D !!
We exchanged gifts after breakfast. I gave him some Black and Blue suede Nike Dukes. He liked them. He collects them.
D gave me a super cute hello kitty USB stick and two photos of us that had been turned into puzzles. How thoughtful. Best of all was the sweet card he wrote for me. It was funny we wrote each other nearly identical messages in the cards!!
Oh and he also got me a suprise. Woooo !! I took a photo of the box but never took a photo of what's inside. You'll have to wait until the next post to find out.
sorry!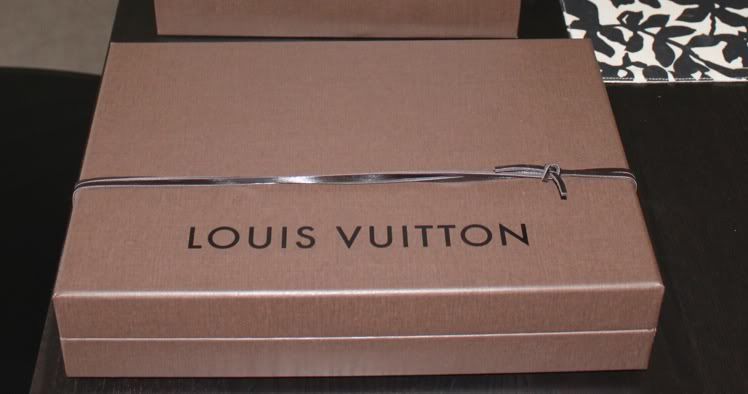 After that he said we were going to the movies! YAY I wanted to see the cheesy Valentine's Day movie so bad. It thought it looked so shitty good and I was right ! ahhh so many cringeworthy moments. So cheesy Vday goood.
Here I am looking foul in the cinema while we waited for the movie to start.
We went to the Directors Suite at Melbourne Central. It was alright. Compared to Village Gold Class I would say they are pretty much even. I find the seats at Village more comfortable though.
We only had coke and long island iced teas and a small popcorn. Still so full from breakfast!
I wore my Thomas Wylde top that I got from The Outnet. I think I've had this top for about a year now but it's still available on the website. People have no taste. BOO!
FIRST of all the print is SCORPIANS. Whats not to love?
SECOND of all the beads are SKULL HEADS.
Awesome x 10000.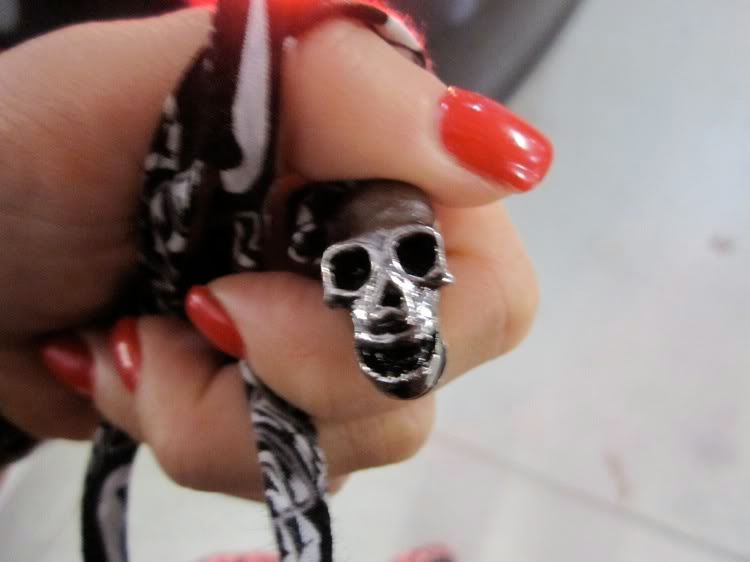 But let me tell you,
Ive worn this top twice since i've had it because the shoulders keep falling down.
So if you buy this top, you have to get it altered. I got the ties stitched together but it still slips off. I have to get it altered again. Its so annoying to pull it up every 30 seconds.
No exaggeration. Booo hiss Thomas Wylde. You should know better.
Actually you can see in the photo how its fallen down. SEEE!! I told you.
SO annoying!!!
I want my clothes to be hassle free. I hate fiddly clothes.
I will update soon with my second part to the day.
Woo
How was everyones Valentine's Day?
Did you spend it with a loved one?
Get smashed with your single friends?
Please share!
I was about to say Happy Monday. geez. I need to catch up.
Happy Tuesday everyone!!
The night of cheap movie tickets.
YAY