After Bali, D and I flew to Singapore to meet friends K1 and K2.
In Singas, D and I decided to keep up the buffet breakfasts in the morning.
It was good.
The Mandarin Oriental in Singapore has one of the best buffet breakfasts I've ever had.
Some mornings I would eat Indian for breakfast.
SO OFF.
I just try and pretend it's not breakfast time.
D ate Indian for breakfast everyday.
He's straight outta Calcutta.
I had below just one big of Indian. Those lentil donut things.
I had to MAX UP on fried carbs because I had 10 days of no carbs before going to Bali.
I missed them A LOT.
I also had fresh pink guava juice. It's the best.
The next day I had green.
It was good too.
I also had wheat grass shots most mornings. How disgusting are they?
Remember when they were the best shit in health? Now they are old news.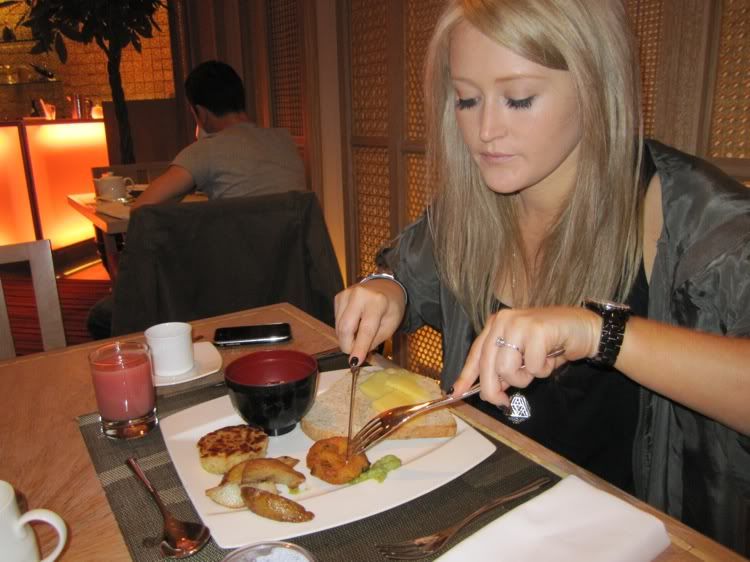 During the day we went shopping. No exciting photos.
Then at night we had to get one some coach and go to the Night Safari.
Wish I could of got a cab.
I dunno why we had to get two buses there and wait around a dock for 40 minutes.
So you go on a golf cart like train thingy through the "jungle" and your host tells you about the animals.
No flash is allowed so all the photos turn out like this,
That was a hippo by the way.
I forgot to bring my glasses and it's all very dark so I didn't get to see much at all.
After the tour you go and watch a show.
Here is the clearest photo from that.
Then they teach you about recycling and the environment and protecting the jungle.
Wah wah.
I didn't pay for a lecture on that.
I'm thinking it's for the kids. Clearly we all know to separate our recyclables and not to be a litter bug.
We got to see these cute little otter like creatures put cans in bins though.
It was the best part of the night safari.
They were so cute.
D got a coke and it came in this cool pirate mug.
I wanted him to steal it but I'm scared of Singaporean police.
They'd probs give him a life sentence.
K1 and I got Ice Milo because that's what you do in South East Asia.
It was delicious.
The Night Safari had some Halloween stuff going on.
I liked it.
This guy below would be still for 10 mins and then all the sudden move and growl.
It was scary.
Here is K1 and moi in a "Halloween Horrors" photoshoot.
I think we needed two more people to make this photoshoot work but D and K2 were taking photos of us.
Here I pretend to be eaten by a croc.
My head hardly fit in.
It wasn't comfortable.
So I decided to "wrestle the croc like Steven Irwin".
Looking at this photo, it looks more like I'm humping it and enjoying it.
GROSS.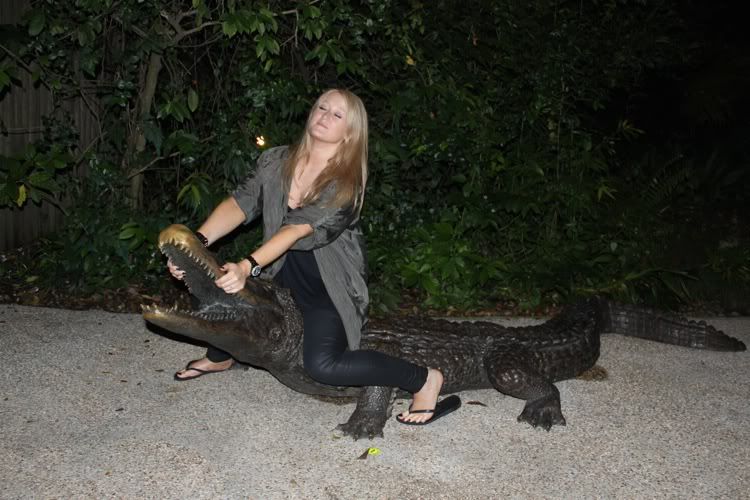 I wore my best jungle/safari outfit.
Witchery shirt
Sportsgirl singlet
Country Road jeans
Havs Thongs