Hello!
I have been away.
We went to Bali and Singapore.
I went to Bali with D and my family. There was 10 of us in total.
It was a lot of fun!
I was scared to go to Bali.
Eeeeek!!! I actually expected to hate it, but I had such a great time. I will definitely go back to Bali!
We stayed at the Pan Pacific Nirwana and I have no idea where it is.
Near Tanah Lot temple? About an hour from Kuta.
This trip was all very last minute and planned by my cousin so I'm not too sure on the details.
Here is the villa D and I stayed in.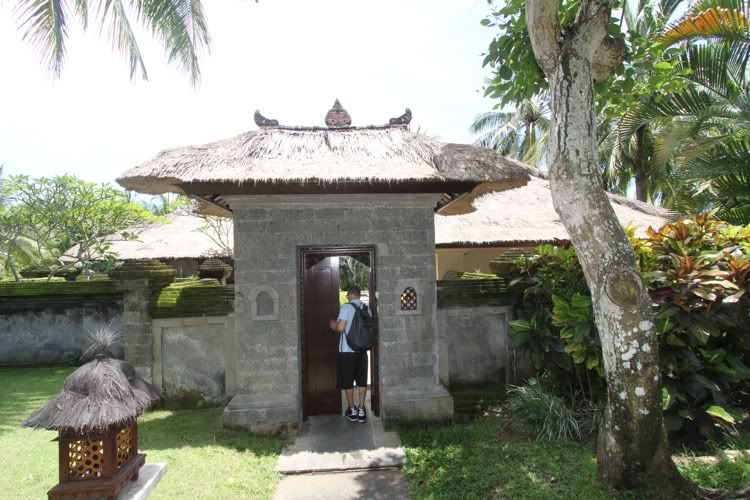 Here I am. On the right is our bedroom/bathroom hut.
On the left is our day beds and outdoor dining area and behind me is the plunge pool.
Zeee plllunngeee pooolll.
Was great for privacy if you don't feel up to the pool scene.
The kids loved it because it was nice and shallow and they didn't need their floaties.
This was the first holiday in my adult life that I have ever got up early enough for buffet breakfast!
It was fun. I will try and do it on all future holidays!
I like making plates of weird combinations. I feel guilty if I dont eat it and try and pass it on to someone else. ie. D or my mum or dad. Hahhahaaa.
Here I am eating YELLOW WATERMELON.
Who knew such a thing existed? And how does it exist?
People say I was crazy for eating salads and fruit in Bali. But I wasn't scared of "Bali Belly"
I could of lost a few kg from all the vomiting.
I like to eat my All Bran with banana and blueberries for breakfast in the mornings so I BYOd my All Bran.
HA. Don't laugh. I take my fibre seriously.
There were no blueberries at the buffet so I requested strawberries and bananas.
They gave me a massive plate.
How can one person eat all these bananas?
I thought the bananas were funny.
MINI
HAhah. I made D take a photo.
YAY.
They tasted weird.
One day we got a driver and did a little run around Kuta.
I'm so glad we did. Drivers are so cheap in Bali and it's so much easier because they can pick you up/drop off exactly where you want to go. No getting lost and dealing with heaps of taxi drivers.
We went to Hard Rock Cafe because I wanted Nachos. Bali Nachos. Haaaaaa!!
Here was Kuta Beach.
And here...
and here...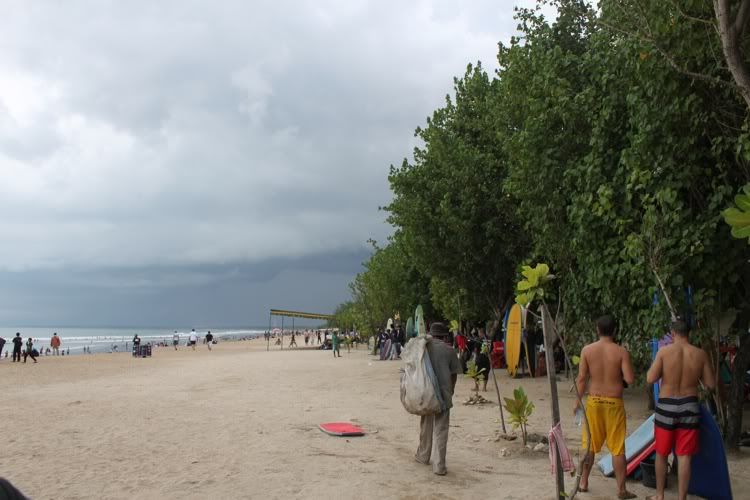 To be honest, I don't get the appeal.
I would never go back.
We were there for a whole of 30 seconds and it was 30 seconds too many.
I've never seen such a large collection of Aussie Bogans in one area.
Ughhh.
Even in Hard Rock Cafe, girls would come in with wet bikinis and a singlet on for lunch.
I was like "Plz cover your cooch while I eat nachos with my parents k thnx"
ughh.
I dont get the whole Kuta Beach thing.
The rest of Bali that I saw, was lovely. I don't know why people would hang in Kuta, when a paradise awaits them in nearby areas.
Maybe it's because I'm getting old and cranky.
Balinese people are so lovely and friendly. I dunno how they put up with all the obnoxious bogans.
BTW My photo of me with a Bintang singlet and bali braids is coming up next.
Yesssssssss.