Sometimes I don't have the time to think about an outfit so I just throw all black on. So easy. And slimming. heheheheee. Then to add a slight bit of interest, a scarf in another colour.
In this case, beige. Who ever thought that the beige could be the interesting part? haha.
I got really excited by making my face leopard print. perhaps too excited. tee hee.
plz excuse random flowers which were supposed to be on coffee table. whenever we eat on the couch my bf always just dumps them somewhere. they look awful next to the candelabra and books. so cuttered. ughhh.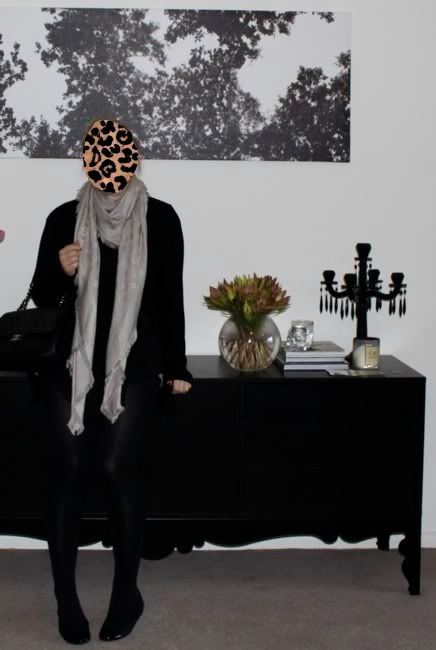 i dunno if there is a point in listing what im wearing as it all kind of blends into one big black blob.
black top - zara
black cardigan - witchery
black opaques - coles
black ballet flats - bally
black jumbo chanel
beige scarf - louis vuitton
Oh hello there, little chipmunk. who are you? a new puppy ? YAY
PUPPY. my mum got a new dog for herself. good on her. i hope she makes her happy
her name is nobu. nobbuuuuuu
hahahahah we were at nobu the day after we got her and thought nobu is cute. and when we said "nobuuuu" she turned around so nobu it is...even though she is a girl and nobu is a boys name. oh wells. little nobu is a tomboy at heart.
i still havent photographed any of my new purchases. i think its because it is quite cold and the thought of putting on summer clothes is never appealing...the only time i kind of feel like doing it is at night and then night photos look awful. u really need that nice sunshine on the pics.
hmmz.