Hello!
Long time , no see.
I am back in Melbourne now. YAY.
The journey back was mammoth. Plane issues. Switching Planes.
Luggage not coming till the next day. Wahh!
Anyway. It's all over now.
I went to Perth over the weekend for Soundwave. Originally was planning to go to Melbourne but D couldn't get back here because of work so we went to Perth.
It was so much fun.
Glad I went to Perth instead. There were no lines and you could get close to the stages easily.
Apart from Slayer.
That was redic. I think they under estimated how popular Slayer are, or perhaps the band requested not to be on a main stage? I have no idea.
I had no idea what to wear. I hate dressing for hot weather. I prefer winter where I can cover all my skin.
I sent photos to my girl M who said to go with this option:
(Plz excuse the messy hotel room )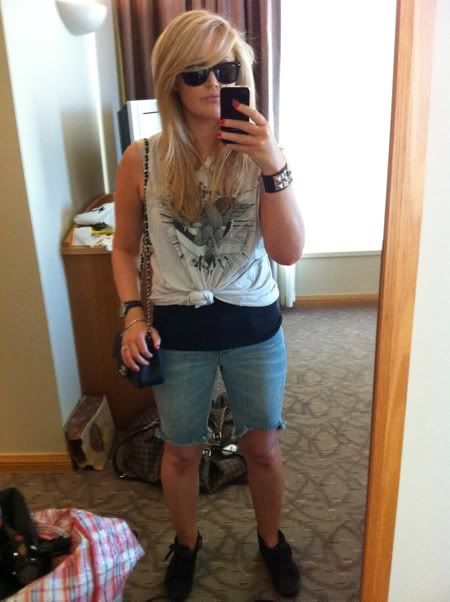 Topshop sneakers
Hermes cuff
Raybans
I was in the 1% group that wasn't dressed in all black. Weird for me because I'm usually in all black. But it was so hot.
I didn't want sunstroke.
I even put on SPF!! If you are reading K, I hope you are proud of me.
Got there and sweated like a pig.
NICE!
So hard to handle after Melbourne had a week of 18 degrees weather. aka winter.
EWW
I got there around 4 and watched Slash, half of Slayer, ate drank and socialised with our awesome Perth friends!!
Then finally the sun went down and Iron Maiden came out!
WOO!
Such an amazing set.
TWO HOURS!!!
I wanted to hear Run to the Hills. It never happened.
Oh well.
It was still awesome!!
Wish I could go again.
I dunno if I will ever have a chance to see them again.
So glad I made the trip to Perth.
Was well worth it!!