These were the best crepes ever.
Banana and Peanut Butter.
Amazing.
I wish I could eat them every day.
Wah.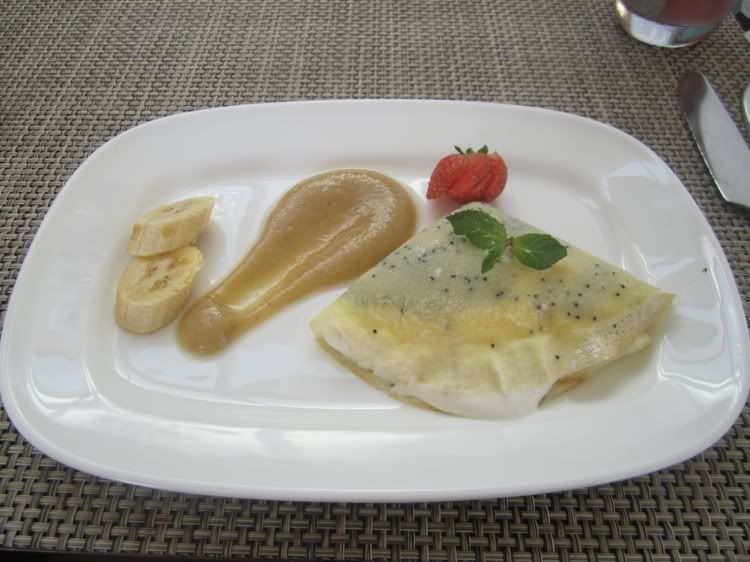 Cute little fruit platter.
I LOVE fresh guava juice. Wish we could get it here. All that guava juice at the supermarkets is foul and super sweet sugary grossness. BLEUGH.
Cool glasses though yeah?
I think they chilled the silver bit and then you slide your glass in and it helps to keep it coolish.
I want them.
One of the swimming pools at the resort..
We decided to play tennis and after getting ready I went to put my sneakers on and realised i had accidently packed TWO LEFT FEET.
UGHHHh.
So annoying.
I could of cried. and laughed. I think we laughed and cried for about 10 minutes.
I played half the game with two left feet and the other half with one shoe on, one shoe off.
Our butler Pepi thought I bought the runners in Kuta and got ripped off because they gave me two different shoes.
HAHAHA.
PEPI!!
NO! IT WAS JUST MY STUPIDITY.
EASILY DONE THOUGH YEAH?!
RIGHT?
We went to Ku De Ta one night because everybody talks about it.
It's a nice place.
We had many cocktails.
I had a trusty mojito.
SWEATY FACE.
I don't handle heat well.
But then our waiter suggest I try this lychee rose martini.
It is now known as " best cocktail ever"
I think about it a lot.
I never knew that I liked rose flavour drinks. I usually avoid them on a menu.
But they taste like TURKISH DELIGHT and I LOVE me some turkish delight.
It's 1.15 now.
I still haven't had breakfast, let alone lunch.
Too lazy to cook something.
Decided to blog instead.
I wish I lived in a hotel full time where I had room service.
Why cant I be on gossip girl? They all seem to live in hotels.
It's weird right? WEIRD.