d and i decided to have a bit of a shop before dinner and headed to the aloa moana mall where we did a few last minute family pick ups. we went into chanel and d pressured me to try on the diamond bezel j12. err crazy. i felt like i didnt want to touch it. like i wasnt worthy. haha.
what if i scratched it? ahhhh it made me feel nervous.
i stood in front of this pot plant to take a photo for my blog. i always pull the most akward poses and faces when im taking a photo. i feel so stupid. and if i see someone coming i quickly run away. hahaha.
this kirrily johnston is current season i think. i picked it up from david jones before i left and i think it was new. i wished it came in a different colour though but they said no. but i think now it does. dang. i really like how it has the ties on the middle, back and sleeves so you can make it "butterfly" style or like a loose top. i like orange, dont get me wrong, its just i feel i need a gnarly tan to wear it. which i dont have. ever....


which resulting in D taking "arty" photos of half dead plants.
nice work honey. <3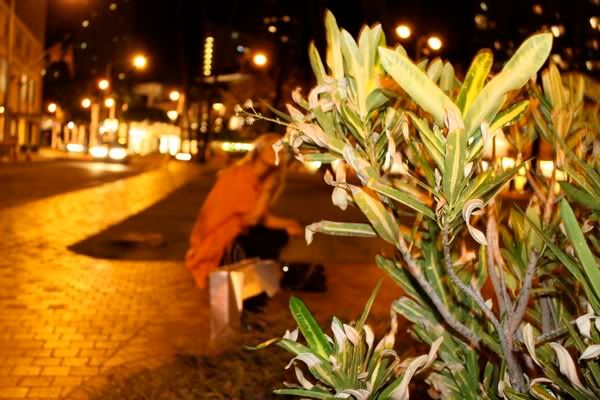 and him telling me to pose on the palm tree. how hawaiin. HA!
i found this flower on the ground and put it in my hair.
after all that sake, we thought this was a fab idea.
in retrospect, the dude watching us take this photo probs thought we were on drugs.
posing out the front of Puma. awesome.
i wish i could show u the photos of D teaching me how to pose. (he said i was shit. which is true. hahaha)
they are HILARIOUS. but he would kill me.


so you can just laugh at me. in my hawaii pose. flower in hair and all.
kirrily johnston top
zara leggings
sam edelman shoes
house of harlow jewelery.
can i not include my jewelery anymore? i pretty much wear the same jewelery everyday.
every time i try something else on i dont like it as much as my HOH pieces.
obsessed perhaps.
hmmz
i even went out and got a new new necklaces and i cant wear them cuz i prefer my HOH.
arghhhh. i need to move on to something different.