I loved Whole Foods Market so much! best place ever!!!
if you thought Macro was good think Macro x 100000000
yayayyaya
i will die if we get it here in australia. die.
yayyaya
nom nom
scoff scoff
D got the pizza each time and it was so incredibly yummy. perhaps the best pizza ive ever had, and that includes all pizza eaten in europe. big call. i know i know.
my tub had this awesome cous cous with currants and almonds so yum.
kalamata olive and feta penne pasta
sesame and soy tofu
spinach
roasted carrots
and fresh fruit with yoghurt.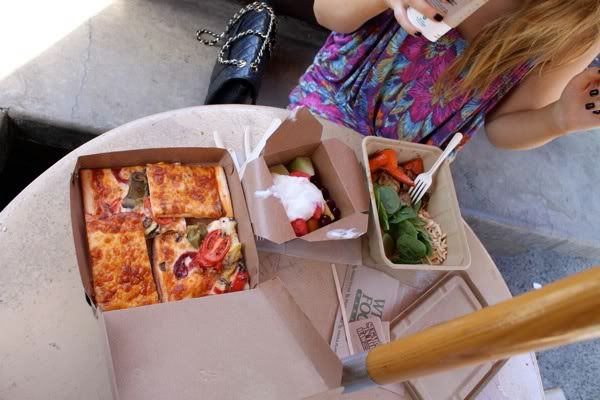 im getting so hungry just thinking about it!!
wish i had a photo of my chocolate sago pudding!!!
nom nom!
should of taken photos inside but i dunno if thats a bit weird or not.
my camera is huge so its super obvious.
i did take a photo of soy whip cream for a friend though
must send to her now.
or tweet
tweet tweet, tweet tweet yeah.
outfit
beach coverup - Topshop
Sunnies - Raybans
Nails - O.P.I Lincoln Park After Dark
p.s Starbucks coffee is even worse over there than here.