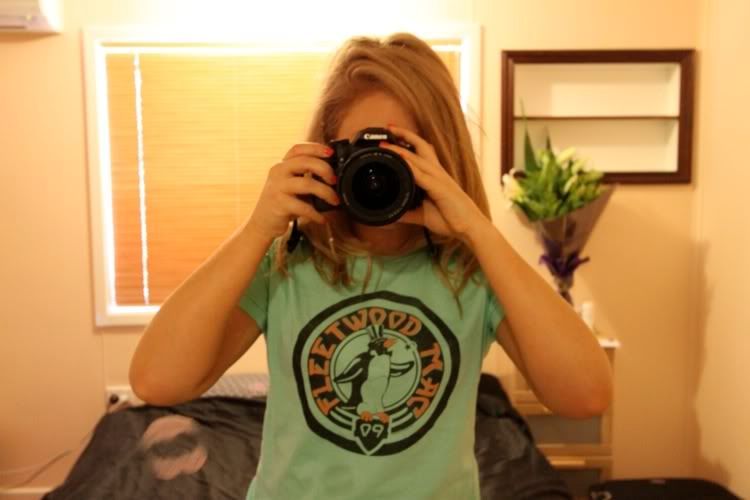 Here is my room up here in K-town. The flowers where from D. How sweet.
T-shirt - Fleetwood Mac tour tshirt
Nails - OPI My Chihuahua Bites
Lipstick on mirror - Housemates girlfriend
AND PLEASE NOTE HOW SMART I AM TO INVERT THIS PHOTO (TAKEN IN THE MIRROR) SO THAT YOU CAN READ THE WRITING. yes. cheers all around please.
I went to Fleetwood Mac last week and it was SOOO amazing. I don't usually do band tshirts but I can't say no to a penguin in a top hat. Can anyone?
BTW, this was an EXTRA LARGE.
The people who make concert tees are gross perves. Why are womens tshirts always "baby doll"???
I hate that shiz so bad. So off.
Anyway, the concert was seriously so good. I was pretty far back but the sound was really good. They played for about 2.5 hours. Crazzyyyyy. I wish people got up and danced though. I was holding back. I heard on the radio it wasn't allowed. Ha!
Highlight of the night was TUSK. Soooo good. Crazy good. I got so drunk though. Didn't have time for dinner. I looked a mess. Eww. My hair was all greasy from the hot day. Off. So no photos from that night.
--------------------------------
So I arrived safely in K-Town last night. My second flight wasn't as bad as the first. Quite smooth actually. Snooty male flight attendant but whatever.
I went to a local restaurant for dinner and the owner remembered me. YAY. She said in January she is starting a new menu which will have vegetarian options. Double YAY. Usually they have to make something up.
Oh and a MASSIVE gecko ran in front of me before. On his HIND legs. HAHAH so cute.
How funny are they? I need to get some footage of this. It's just so funny.
My mission for the week : Make one with the flies. About 237 have tried to befriend me since I've been here but I'm just not ready for it yet.... Maybe later.