Watching "Up" while eating my povo lunch. seriously qantas. step yo game up. I'm a vegetarian. not a second class citizen. why are you giving me a childrens meal fruit cup for dessert? it's an insult. and you will be hearing from me.
this is why im switching to singapore. and virgin for domestic.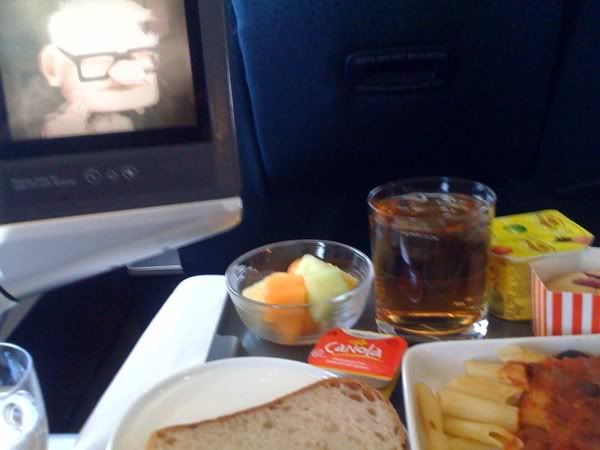 AHHHHHHHHSDLKFJNLSDKJFLSDKJFLSKDFJSLDKFJSLDKFJSDLKFJSDFLKJSDFG
IM GOING TO HAVE A MENTAL ATTACK.
I JUST WROTE THIS LONG WINDED POST ABOUT HOW MUCH I HATE QANTAS AND YET AGAIN THEY SCREW ME.
im sitting in the lounge. where one TRIES to do work. but for some STUPID reason. their internet never works on my MAC. and i wrote a massive post and the internet timed out as i hit PUBLISH post and i lost it all.
SO MAD
i hate qantas more than any other company. they have taken over telstra in my hate ranks.
half way through "Up" the video system fucked up and i couldn't watch the end.
typical qantas.
cant get anything right.
anyway, to clarify, im not leaving qantas because of a fruit cup.
its because of the fact that they always screw me over. i wrote a long list of things they have done over the past but it got lost now. HOW CONVENIENT QANTAS?!!
its the fact that everyone else gets a nice normal dessert of ice-cream and wavers or cheese and fruit platters and i get a fruit cup. " oh ill see if there is anything left over that you can have. your dessert was the fruit cup"
UM WHY? im not a vegan, i didnt request a vegan meal, and im not a child. and i paid the same amount as everyone else. this is bullshit.
all i want is to be treated equally. and not like some big hassle.
on my last international flight my meal was steamed rice with green beans. NO SEASONING. imagine that for 12 hours. hellz yeah! TASSTYYYYY qantas. THANKS! everyone else gets neil perry designed menu and i get that shit steamed carbs and green beans. that'll tide me over nicely. YUM. (sarcasm off)
EMBRACE THE VEGETARIANS QANTAS.
ITS almost 2010 YO!!!!!!
yes yes, this post makes me sound crazy. but whatever. big companies love to screw the little guy. like how they treated that blind lady !!! wthheell. i heard on the news this morning. so typical of qantas.
they're an embarrassment of a national airline.