Hello!~
Long time, No see !
I haven't been taking any photos lately, but i just uploaded some old photos from camera to share.
This is from Perth about a month ago?
Sometimes I cant be effed with clothes and I just wear something of Ds.
Nice and baggy and easy and comfy!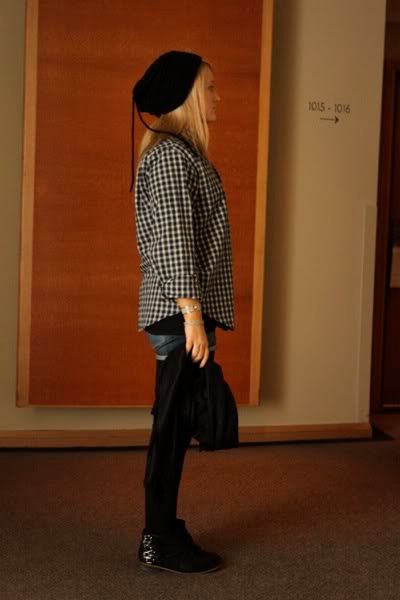 Sass & Bide shorts
Sass & Bide beanie
Zara boots
I love these boots. Mainly because of the buckles and the comfort factor!
I wear them nearly every day. I should get them topy'ed so they last longer!
Here are some photos of foods I recently ate!
YAY
These are from MAMASITA on Collins st.
Yummy. I could eat guacamole every day!
Here is a cheese and mushroom tortilla and some sort of vegetables cooked in a red pepper.
They were nice.
For drinks I had the mamasita margarita. It's very nice!
D had this red chili beer type cocktail that was also nice. Sounds gross though!
This was supposed to be some sort of mint dessert but really was just some sort of custard shiz. EW. I had two mouth fulls. Yuck.
Ignore my deer in headlights expression.
Hahahha. So stupid.
I wore a S&B tshirt
with a
Kate Moss for Topshop vest
This dessert sounded so exciting.
Jalepeno and chocolate ice cream.
It tasted like chocolate ice cream.
I dunno where the jalepenos were.
Next we have the newish MAZE restaurant at Crown Metropol.
I really loved the food! Will be back for sure!
The staff all seem very young there and it was quite hard to get attention for drinks etc.
Then once you finally do its about a 10 min wait.
So we started ordering heaps at once so we weren't constantly without a drink.
We did the vegetarian degustation. I think it was 8 courses.
My favourite dish of the night was the first dish, the soup. But I took no photo.
D and I both thought it tasted like Aperge in Paris.
I wore this black Country Road knit that has a sparkle through it. But the camera didn't really pick it up.
Here is a course which was basically beetroot with goats cheese.
This was some sort of potato salad with the thinest sliced avocado ever! Very impressive.
Almost looks like cucumber!
The bread there is so delicious!!! They serve it in this warm steel canister so it stays warm, and serve it with salt and seaweed butter.
Here for dessert we have a lamington thing.
We also had a carrot cake.
I didn't like either of the desserts.
I think I'm not into 95% of deserts. I'd rather eat salty chips anyday!
Then after dessert you get these strawberry ice cream balls covered in white chocolate.
Which we also didn't eat.
Its all too much sweet and sugar.
Three desserts Bleughh.
But I think most people would really enjoy it!
Here is two random shots from NOBU
If you guys go there you must try this cocktail!!
SO GOOD x 10000
Its a raspberry and hazelnut martini.
YUM
Best sweet drink!!
I usually dont like sweet alcohol drinks but this one is v nice!
Cute tasting plate!!
I like small little desserts to try.
I will try and take some more photos of recent purchases etc.
Winter makes me not want to take photos.
Being in Perth so much makes blogging difficult also because I don't have the internet there :(
I am still trying lots of new places in Perth.
Thank you once again to all of you guys that suggested places for me !
Have a lovely day :)
People down south, rug up!
*bbbrrrrrrrrrr*