ughhh!!!! i went to rokk ebony south yarra and they totally screwed my hair!! i was blonde. now im grey/orange poo colour. so mad. and i paid $250 for the privilege.
" oh come back next week and we'll fix it" YEAH OKAY COOL ILL FLY BACK TO MELBOURNE JUST SO U CAN FIX IT.
ugh idiots
so now im stuck in rural WA with horrible hair.
yuck
im not posting until my hair is fixed.
im so mad. so so mad. grrrrrrrr.
grrrrrr x10000000
last week i went on a pyscho shopping blitz. so i have lots of things to post about.
but im going to photoshop out my horrible grey hair.
GRRRRR
SO MAD
i have two weddings and a work function as well. nice meeting new people with horrible grey hair. awesome. thnx rokk ebony. u reek. k thnx bye
wearing
S&B dress
sportsgirl jacket
marc by marc jacobs shoes
diva ring
( this was taken the morning of trip to rokk ebony. i preferred my hair with the 7 week regrowth to this horrible excuse for foils)
looking back at this pic its so hard to imagine how cold it is in melbourne when its so freakin hot here. 33 degrees right now. arghh!!!
oooh
i got this cool cuff from Diva !!
i just took this in photobooth
yay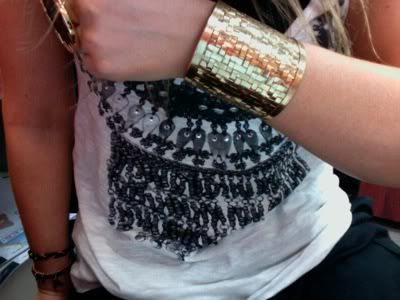 also i got the S&b singlet a few weeks ago too.
its my favourite singlet right now. i MIGHT be wearing it to death HAHA
also in the photo im wearing my new S&B crackerjacks. which i think i will wear to death this summer. kinda over leggings right now and i needed something loose. i feel like a bit of a fat heffa in them tho. hmmz.
its so good up here.
im so happy to be back. YAY
everyone come visit me!!!!
YAY
we can sit on the patio and breath the humidity and then laugh and think that this is australian.
haha
outback towns rule.
everyone is so super nice.
and you can park anywhere for as long as you want and you dont have to pay! HUZZAH!!
ok
i am clearly going a bit psycho from the heat and need to step away from the blogger.
till next time!