Hello new shoes,
Because sometimes tacky is a good thing.
Close up of the nice stitching.
I wonder if it was hand stitched? I'm sure they'd tell me that it was. Haha.
Couldn't they put double Cs on the shoelaces too? Then it could be naff to the max.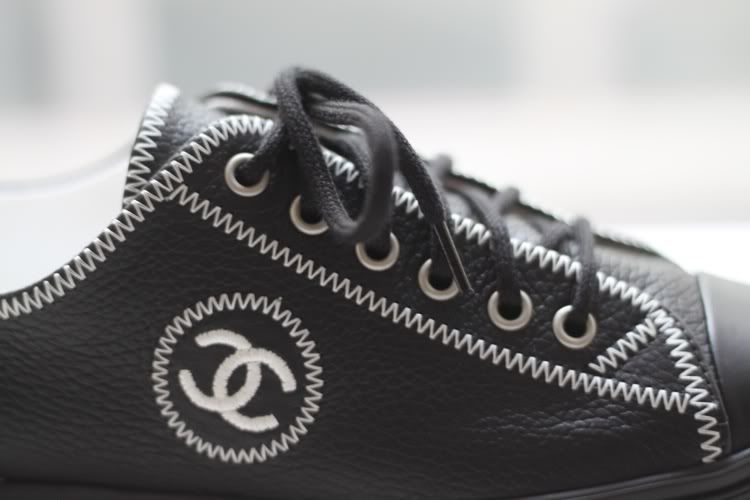 Isn't the sole cute? Just incase you didn't get they were Chanel by the side you will know when I kick in the air that it is.
Ha!
Okay okay,
I know the whole logo thing is gross and I agree. But these were super cute and I couldn't say no!!
Plus they are very comfy! They will be good for my travels when I have to walk whole days.
I have been looking for a black sneaker that has a black sole for what feels like ever. I'm glad I found these.
I will dub them my " dress sneaker"
AHHAHAH No really I wont. I hate "dress sneakers" *shudder*
I'm looking at you shoe with the M on the side. Whatever they are? I just dont get the whole "formal sneaker" thing that some dudes are doing now.
It's either sneaker, dress shoe, boat shoe, boot.
No merging of the two with a formal sneaker. Can someone explain it to me?
I will wear these with black opaques and denim shorts. Yay.
Now it's colder in Melbourne boots and real shoes are back!
Goodbye sandals !!
Btw, how was everyones weekends? Mine was shit ! I was gnarly sick with food poisoning.
Booo! Atleast i lost a kilo. YAY!
Tonight I'm off to a gig and I will freeze to death.
The sacrifices one makes for musical talent.