Hey Everyone!!
How was your weekends?
Did your Monday suck?? I hope not! I get excited for Mondays. I think it's because of the possibilities that a new week can bring. Eg, a new week of tv shows to download. YAY! Hahaha.
For about a good year, I don't think I would of got through Tuesdays without Gossip Girl.
Anyway,
I'm trying to finish my Japan posts quickly so here it goes.
Here we are at the Kinkaku-Ji Aka Temple of the Golden Pavilion.
The trees were so beautiful. That shade of green really came up well through the camera.
Cute Japanese School Uniforms. I wish we had them here.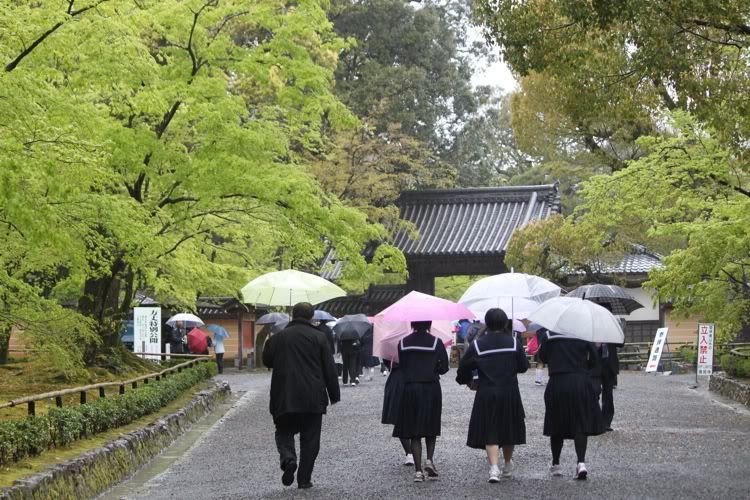 Here I am looking all arty.
Don't I look pregnant in this shot? D's mum would be so excited. Sorry C. I am not preggers. It's just my scarf under the oversized cardigan!
Sometimes when it's raining and freezing outside, you just want a huge chunky cardigan!
More beautiful trees. I took A LOT of photos of trees in Japan. I wont bore you with them all. Hahaha
Here is the actual Golden Pavilion. From what I understand, it was basically built as a retirement pad for some old important Shogun back in the day. Back in ol' 19diggity2. OR 1397. Same thing.
It has been rebuilt since then. I think perhaps more than once.
But you get the general idea.
Can you imagine us building a golden house for a retired military general here in Australia?
Hahahhahahaha. It would never happen.
Thank you RAIN. Thank you for making my photos look FAB. Haha.
It rained ALL DAY. As in from 8am to 9pm. Ahhhh. I think the rain follows me on holidays.
Here is a photo of me with some Japanese school kids.
In Kyoto so many school kids wanted to talk to me and take photos with me.
It was cray cray.
I don't really know why.
Anyway, those two girls were SO CUTE. omg.
I wish I got their emails so we could be pen pals and I could practice my Japanese.
Next up is Fushimi Inari-taisha.
Wikipedia says Inari is the God of business and people worship for good wealth.
Dammit. Wish I knew this then. Would of stayed longer and prayed.
HAHA just kidding.
Wiki also says during Japanese New Year the shrine gets just under ONE MILLION visitors a day. Cray Cray !!
Anyway,
How funny is it that there is a convenience store right at the front?
Old/New Japan at its finest.
Also, how cool is the Japanese boys school uniform?
It's like some sort of Ninja suit.
Awesome.
Here is D and his pretty baby blue umbrella. He bought it for $3 at the shrine and it broke within 5 mins. He refused to take an umbrella from the hotel so I didn't feel sorry for him! HA!
There were loads of foxes through the place and they all had different objects in their mouth.
I liked them. They were sassy.
People write their prayers on these little wooden things and then the monks will burn them and your wishes will come true.
I wished that all my blog readers would win the Power Ball this week. Let me know how it goes.
Ok and finally we have,
Kiyomizu-dera !!
Look at that crazy mist!!!
It looks so magical and mystical. Ooooohhhh. Spoookky!! Hehehhe
Wash your hands and face/mouth before you go in.
No one does.
But I think it could be a Buddhist tradition. Perhaps it's to cleanse yourself spiritually before you enter? Not sure.
Maybe one of you guys know for sure?
Here is the main building. It was built in 1633 but the temple dates way back before then.
Wikipedia tells me that not one nail is used in the building.
I wonder how it is built then.
Maybe D will know.
He is good with this kind of thing.
How Karate Kid is this place?
D and I did a little Karate Kid photo session when no one was looking.
Had to keep it respectful! Hahaha.
Here you can see my oversized cardigan more.
I don't know what brand it is but I got in the plus size department of Myer.
I didn't realise until I was at the register.
I like it though. YAY. It's very comfy.
I wish the umbrella from the hotel was black. The navy blue doesn't match my outfit.
Here is D lost in a sea of umbrellas!
This photo makes me laugh.
He couldn't find me. I could see him trying to look for me. It was funny.
How cute are the pink blossoms!
Cuuuuuuuuteeeeeeeeeeeeeeeeeeeeee. I like the misty background too.
Look how the rain made my hair frizzy. Thanks rain! Cheers.
I felt so darn comfy that day.
Thank you outfit for keeping me warm and comfy.
I couldn't of done Kyoto without you.
I hope that when you guys visit Japan you will get a chance to visit Kyoto.
It's so beautiful.
I know that Tokyo has all the lights and crazy stuff but Kyoto offers an amazing insight into the country's history.
When you are standing in those shrines you can't help but think about who was walking in that same spot centuries ago...
Maybe even a samurai?!
Maybe even Hiro Nakamura?!
Yatta!