Let me show you what we ate on the plane to Singapore.
It was so much food I felt like chucking.
Here some sort of weird chopped vegetables in cups thingy we had as an appetizer.
My favourite part is the random bit of wriggly red capsicum.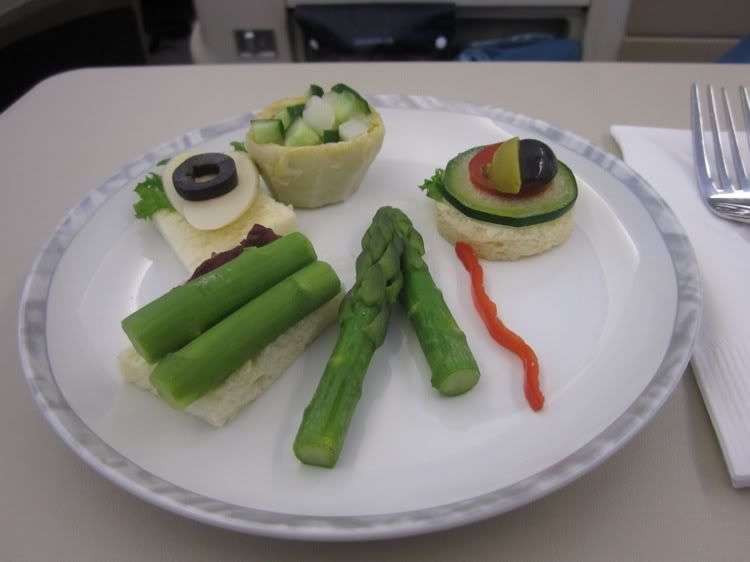 Here is the entree salad. I like how it is presented. I found it weird that they cut off the skin of the cucumber.
The skin of the cucumber is the best part. I like how it is crunchy.
Here is the main. It was quite tasty actually! For plane food it was good.
Especially for a vegetarian meal. Usually I get rubbish.
The fresh basil leaf made me happy.
REAL ESPRESSO ON A PLANE!! Qantas if you are reading plz take notice!
Another funny thing about Singapore Airlines is the crockery. It's Givenchy.
How Hillarious.
Why would one want to use designer crockery in the sky? hahaha so funny.
Japanese dessert thingy. It was SOOO NICE.
I have no idea what it was though.
Similar to Panacotta but I think it was some sort of soy number. It wasn't milky tasting.
Hmm. Not sure of the sauce either. It wasn't berry. It was sweet and kind of floral.
Real strawberries in icecream.
Cheese and crackers!!!!
Can you see how much cheese there is? And they give me 3 crackers. What are they crazy?
We asked for more crackers.
3 crackers.....crazy people...I think the yellow stuff was dried pawpaw maybe? Not sure. it was nice.
Here we are in Singapore!
I didn't really pack for hot weather. I kind of worked something out.
I wore D's hat. It covered my hideous humidity hair.
I think I only wore it for about an hour.
I like hats, but I feel silly wearing them.
YAY! I love Singapore.
Two of my favourite stores..
D and I ate at the Food Republic Food Court on Orchard.
Here he is having a nice cold beer.
Look at all the yummy Indian food!! It was very very nice. Probably the best Indian food I have had. Suprisingly from a food court!!
The green spinach one on the left was my favourite.
Garlic naan and mint paratha make me so excited!!!
I loveeeeeeee them !!!
This is out the front of Takashimaya. They were setting up for Singapore Fashion Week.
Which was ages ago now. Wish I could of seen Bryanboy.
Here is some things I got !
Duty Free perfumes!!
A whole heap of Chanel makeup and nail polishes duty free. Some toys and see the star and black thing? They are scourers for washing dishes. Cute yeah? The yellow dog thing goes over spray n wipe bottles. CUTE.
Some DiorShow mascaras and that Dior Addict lipgloss is so good! Sephora bronzer brush. Love these!
Finally I got my ye old faithful Clinique DDML and Frederick Fekka hair treatments. Hope these work out good!
And here is a stack of clothes I bought in Japan and Singapore.
I'm sure they will be in up coming posts as well.
Ahhh.
YAY Finally finished blogging about Japan/Singapore.
Hope you all have a lovely weekend!!
I wish we were all on the same time line with Gossip Girl episodes.
I wanted to write about it but I think a lot of people aren't watching in with the US and it would spoil it for people watching it on Australian TV.
AHHH!