You may call me the poor mans Fashion Toast.
First things first,
How rubbish was the episode of Gossip Girl today? I was looking forward to its return for months and the episode was so boring and zuhhh! Let's hope next week is better.
I feel better today because I got my regrowth done. It makes me feel about a zillion times better.
Regrowth gets my spirits down.
Tomorrow I'm getting my nails done and then I will feel a zillion trillian times better.
Yuzzahh!!
Okay back to the blog post.
D and I had sushi for dinner and on the way we took these photos.
How model wannabe lame do they look? I am cringing at myself.
It was soooooooo damn windy I was getting so cranky and didn't want to take a photo because the wind kept pushing my hair all crazy in my face.
D told me to "work with it" hahahah that made me even angrier.
Anyway,
we snapped these pics and then I ate about 80 pieces of sushi. I think I put on 2kg in K Town.
The food options are limited to pizza, cream pasta, cream risotto, scones, fries.
Sushi was the healthiest but I can only eat it like once or twice a week. It's not my fav food.
Okay back to the post again, I go off topic easily.
I love the red earth....
I miss the outbackkkkkkk....
Oh and my fabu harem pants are from a hippy shop. I dunno the name but I think all those hippy/bali shops sell the same shiz dont they? These ones are elastic at the bottom which makes me happy. You can't really see in these photos because I'm too short. Boo.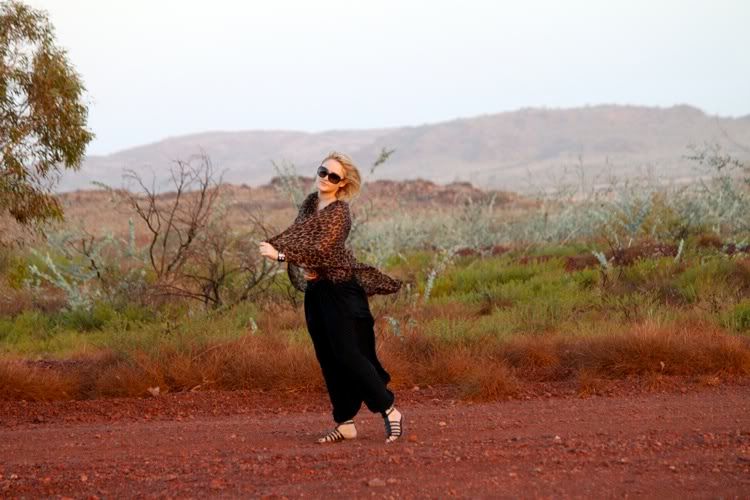 In this photo I put my hand on my hip to try and look thinner.
hahahahhahaaaaaaaaa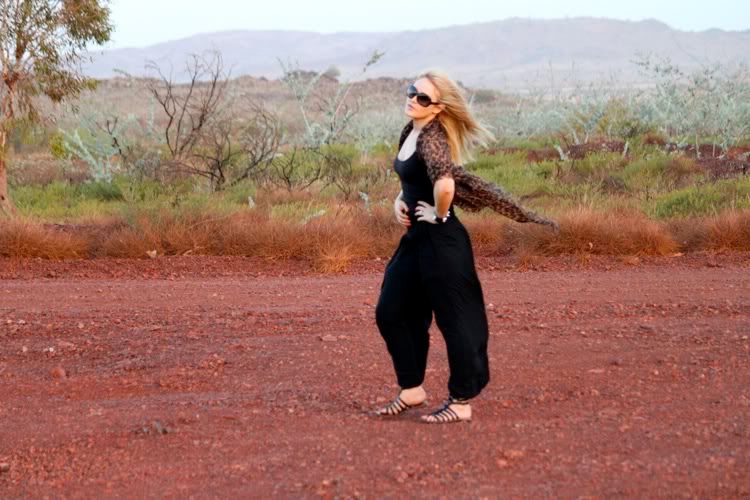 Close up.
Louis Vuitton scarf ( I think I am going to wear this everyday this year)
Hermes Collier De Chien cuff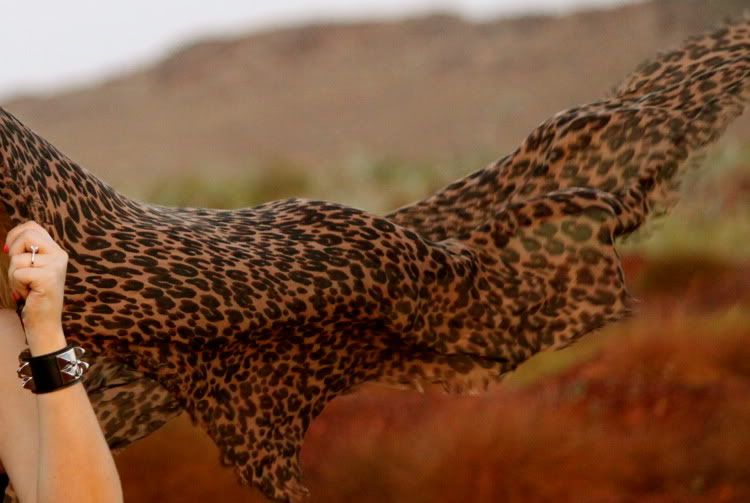 I saw on the Hermes website they have new colours in.
I am tempted.
Need to get Net Nanny on my computer and block the Hermes website.
eeeekkk!!
I loved the cool weather in Melbourne today. It was crazy hot in Karrachi so it was nice to have a change.
I had my first real coffee in two weeks two which tasted like the BEST COFFEE EVER.
Nothing beats your usual coffee place yeah?
I'm getting excited about my morning coffee tomorrow.
Woooooooooo!!
Every day MUST MUST MUST start with a stop at my local coffee spot.
Now I must go and catch up on your blogs!
Adios Amigos! :)