D took these photos of me after we got our morning coffee.
I hadn't had a sip yet. Cranky.
Ha!
I used to hate it when people told me they "need" their morning coffee.
I have kind of become one of them.
I'd rather run late than miss my coffee.
Anyway
I am wearing a top which has some ladys name on the label but im so sure i got it from Topshop. I have a bad memory. So its really 50/50 on its origins. I got it ages ago.
The vesty thing is from a brand called Kachel.
We all know the rest of my outfit because they are common characters on my blog now.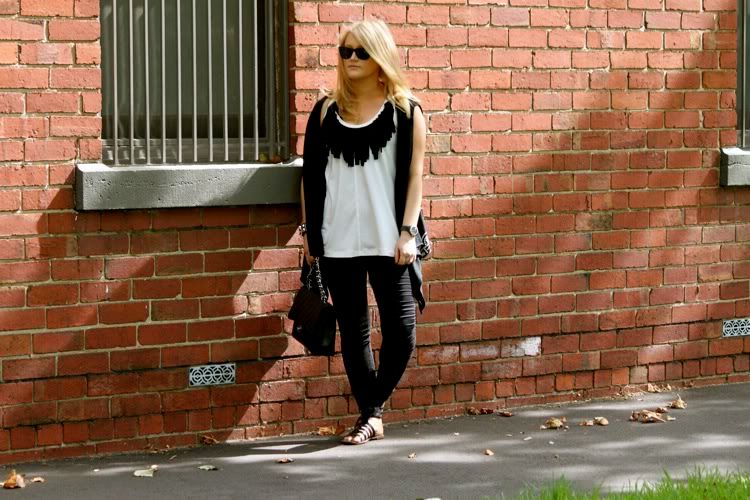 Close up because apparently people like seeing details.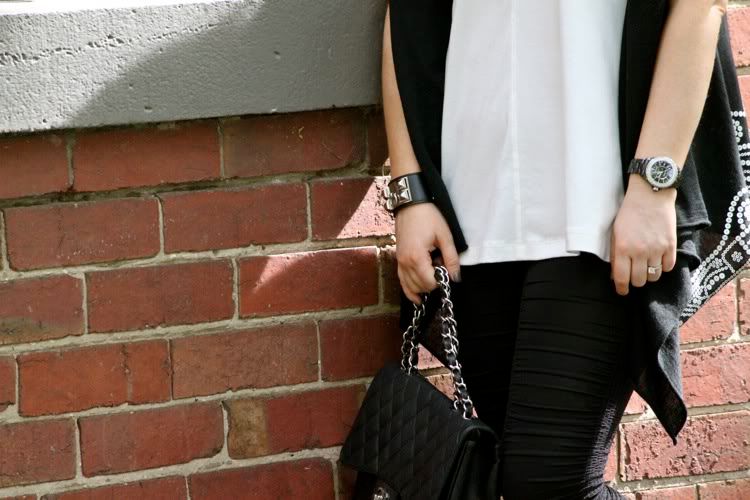 Here is the back of the vest. How cool is it? ITS LIKE THE POPES HAT
I'm sure of it. Or something pope like. I dunno.
Aren't elbows weird? I really hate them. Just like i hate that weird bit of skin between your armpits.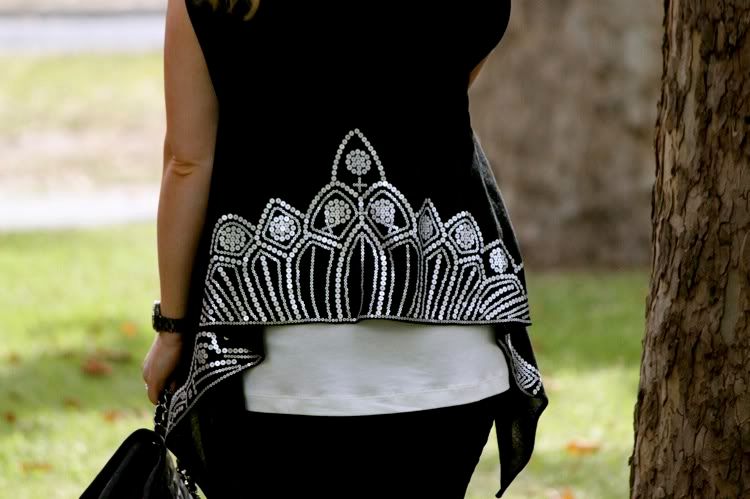 Anyway, you know how I mentioned in my last post about some food festival thing in melbourne right now?
they have these tents set up near Chanel on that gravel bit and one of the tents has a wood fire oven.
YES U HEARD RIGHT! It was like the best pizza of my life.
I went back and got another the next day.
This one below was roasted fig, gorgonzola and walnuts.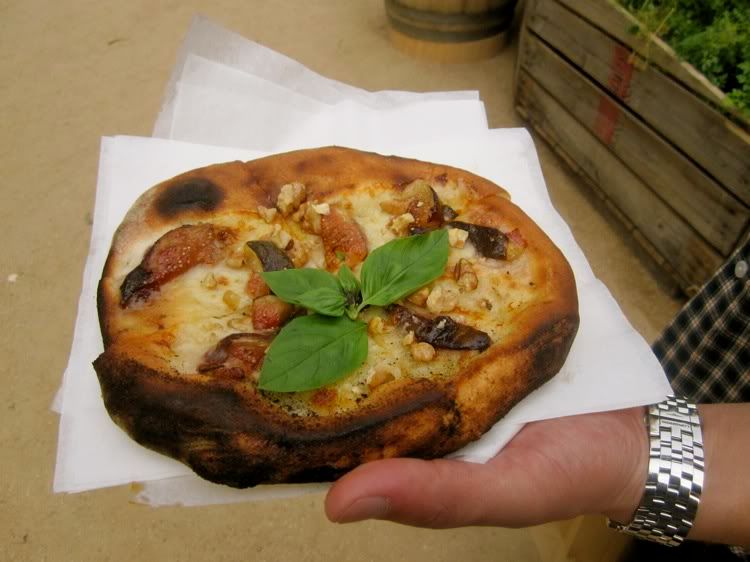 Hells yes. Look at this up close so you can drool. Yum
Lucky for you ( AND ME!) i took their brochure and they have a restaurant.
YES WE CAN ALL ENJOY IT. The place is called Red Olive and its in Fitzroy and here is its website
LINK
.
I want to go and eat all the good italian goodness asap.
ASAP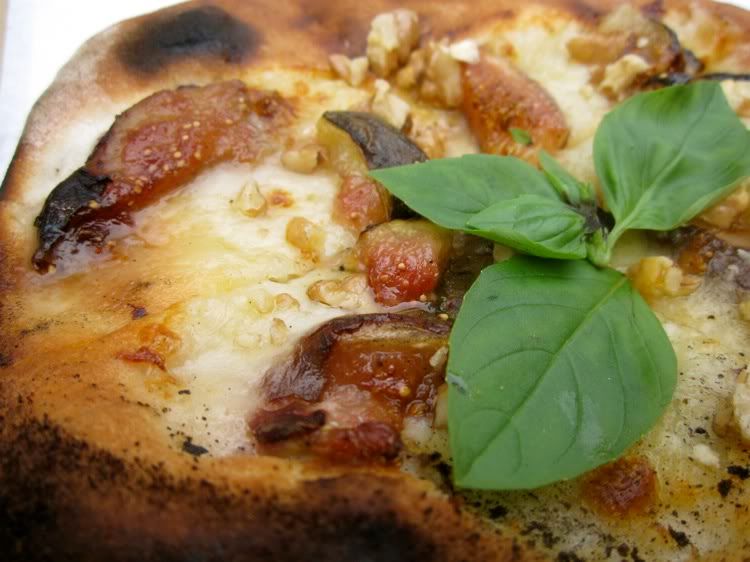 After we ate the pizza I picked up some nice yellow roses for home.
They opened up huge!!!! huuuuuuuuuuugeeeeeeee!!!
Possible the biggest ive ever seen a rose open up.
Should of taken a pic. ahhhhhh.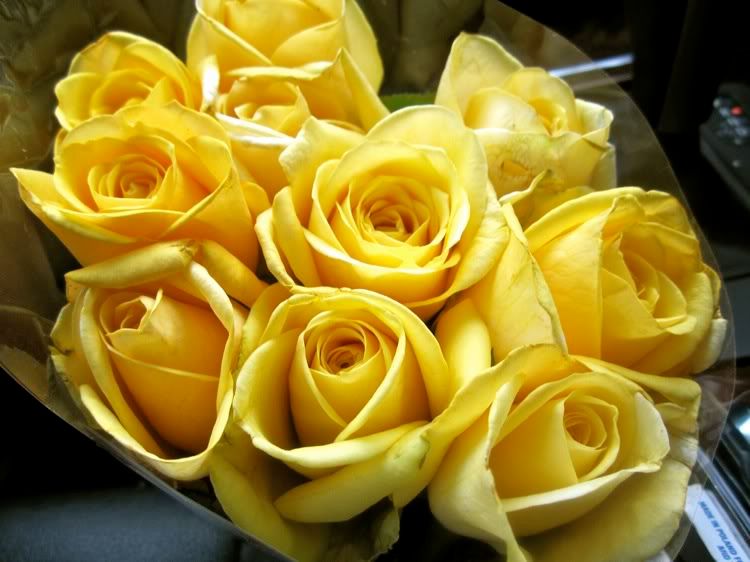 I only got one thing that day. I forgot to mention but after Nobu we went to crown and i won some moolah. yessssss.
Anyways. I always feel guilty when i win money so i got D's little brother a present.
I got him this LV wallet that he has been harpin on about for years now ( in teenager time. in real time its months) I haven't given it to him yet. I just took the below photo.
Um. Its like impossible to take a photo of this wallet at night. The flash from the camera or even the light bulb in the ceiling reflects like crazy off the canvas.
Hell annoying.
Ughhh
Anyway its the Damier Graphite colour.
I like it. He will like it. I hope he gets excited.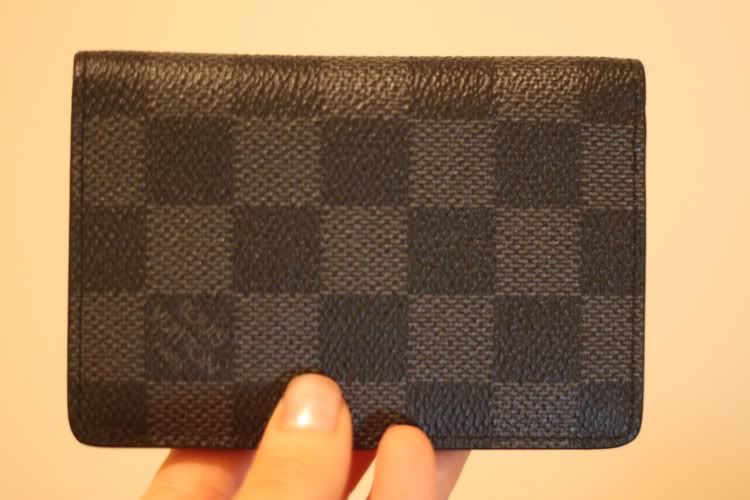 Anyway, so I want to give away some of the money i won ( its not much but still ) to a charity so the universe is even. I feel something bad might happen if i dont give some of my winnings to charity. Its just my theory with winning money ok? hahaha
I cant decide who to give it to
Theres like a bajillion charities i like.
Its balls.
I dont know whether to just go Red Cross or to go more local like Father Bobs charity.
It's too difficult.
I think im heading towards local because its a smaller amount.
Sometimes i feel local smaller charities often get forgotten.
It's now officially Thursday. Which means its practically the weekend
YAY!
So excited.
Excited x 100000000000
I'm helping a friend move into her new place and I'm v excited for her. Hope it all works out.
I feel like EVERYONE bar me is underestimating the hugeness that is moving house.
Like they all forgot what HELL it was when they did it.
Ugh.
We have a nice little crew helping but it's still a mammoth job.
I'll stop rambling now
Goodnight/Goodmorning if you are reading this at a more civilized hour.
:)