The best time for exploring in the Pilbara is between 6pm and 7pm when the sun is going down.
It's gnarly sunny and you squint your eyes like blind woman but the sunset is pretty so it's worth it.
The nice breeze from the ocean is a life saver.
White t-shirts help but I usually wear all black so my clothes dont get covered in red dust.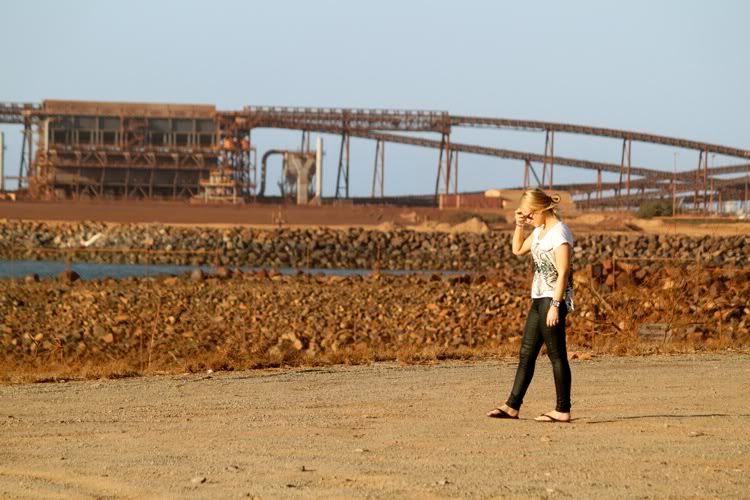 This is my favourite Sass&Bide tshirt. I love the green in it. It goes nicely with gold and silver. Which I think is rare in colours.
It also reminds me of reptiles. Then I sing reptile by NIN in my head for a while.
Why hello there squinty,
You can see the detail in the tshirt atleast.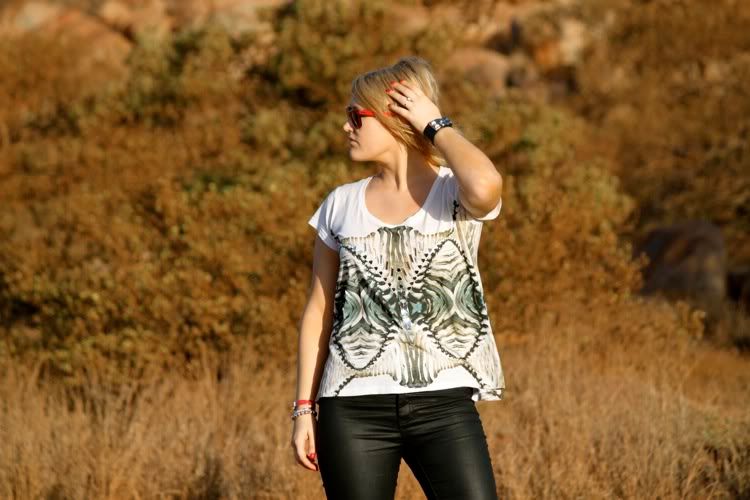 Can you see how my nails match my sunnies? That was not on purpose. I'm glad it happened though. I will call it my "pop" of colour. hahaha.
Sunnies - Ray Bans ( gift from a dear friend)
Tshirt - Sass&Bide
Jeans - Country Road
Cuff - Hermes
Bracelets - Tiffany balls bracelet & Hermes Click H in framboise
Nails - OPI Red My Fortune Cookie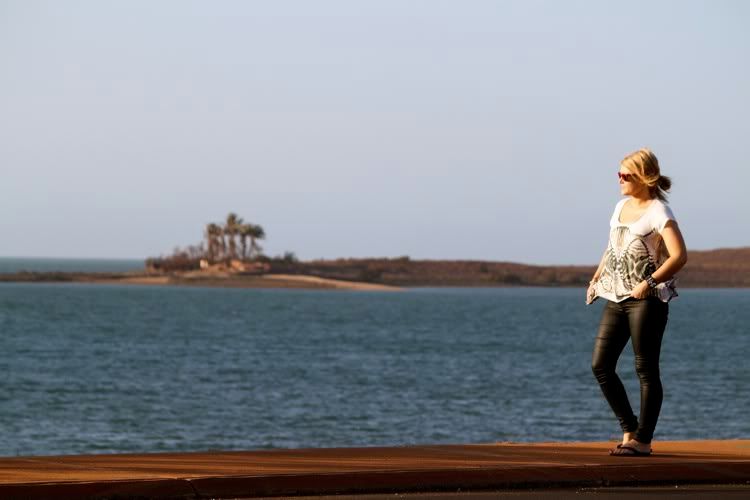 Okay now I will tell you the story of Sam's Island. In the photo above, you can see his island.
Apparantly a man named Sam lived there like a hermit.
The council kicked him off the island. Everyone rallied in the community to let Sam stay there and live on his island in his shanty shack.
They council let him back on the island
He died happy on his island
It is now named Sams Island.
I hope this story is true and not an urban legend!! Hahah Like old " red dog" . I dunno if i believe in that story. Maybe
PilbaraFace
can enlighten us if the Sam's Island story is true.
Now below is my favourite tree in the Pilbara.
It is asking to be sat on.
I tried to sit on it and fell off.
HAHAH
You can see the action below.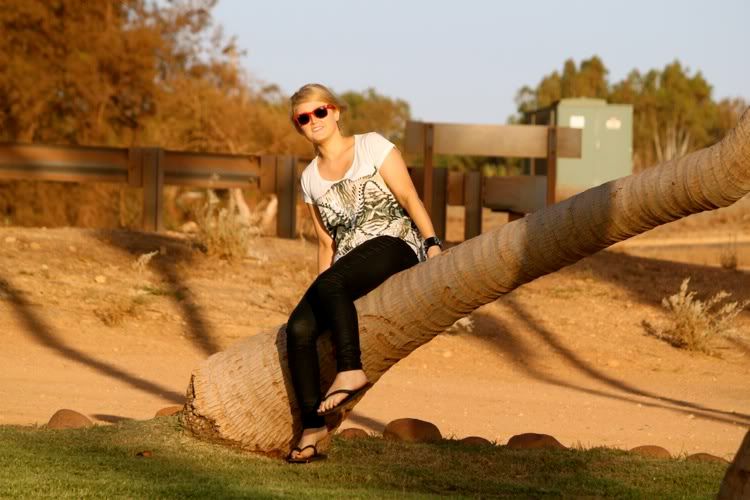 But then success !!!
Huzzah!
I climbed to the top.
This is major for me.
I hate heights. I know this doesn't look high but I still got dizzy when I got to the top and stood up.
I am going to see The Blind Side tonight.
I am excited to see Sandra Bullock with Texas hair. Woo.
I saw Precious the other day. Did I already mention this on my blog?
I liked it a lot. Mimoo was great in it. I didn't like the ending though.
I want to see Hurt Locker and Alice in Wonderland.
So many movies to see!!
I hope you guys all have the best weekend! Make it a productive one.
I will try.
I want to unpack finally and get up to date with cleaning.
I have a date with the disinfectant,toothbrush and shower.
WOO.
I will manage to try new cocktails this weekend too.
YAY
sldkflsdkjflskdfj
I am going to go listen to Celebration by Kool & The Gang to get excited for the weekend.
You should too! How can you not be happy whilst listening to this song?
Celllllebrrattioonnn! I might even dance in the living room.
I hope you all liked my Pilbara photos. I love it there and I'm glad I can share a few bits of it with you guys :)
Have a great weekend :) :)