Last week D and I wanted to eat foods from Nobu at Crown.
So we went.
I wore this outfit below. It was an all black ensemble with gold around the shoulders to break it up. kind of.
Anyways, here is a photo of me hanging out in a carpark like its a normal thing to do.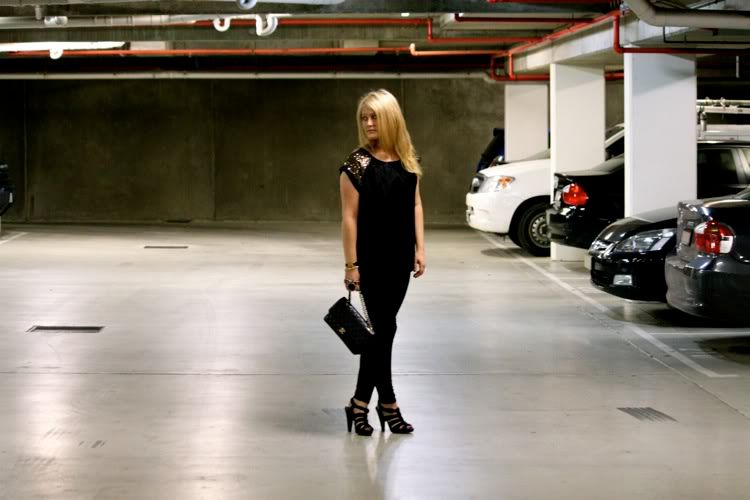 This top excites me because i got it for cheap. $15 !! YES THAT IS RIGHT!
$15. I got it up in K town from Jeanswest.
Its some kind of silky feeling top but i think the material is viscose.
I like it though.
You can see the detail in the shoulder below and you can see the jewels i wore.
Hermes bangle and House of Harlow ring. And the Chanel Elephante polish.

Ok now that boring shiz is done with we can get to the GOOD STUFF.
FOOD PHOTOS. YESSSSSSSSSSSSSS.
We drank sake. I choose the sake which in the menu is described as " aged listening to classical music for 10 years"
like hell that shiz is even true!! and if it is, i love it. It excites me and I must always drink it.
I feel relaxed by the sake because it listened to classical music.
I must investigate if its true or not.
On the right you can see the "new style vegetable sashimi" which is really just some tofu/tomato/asparagus dish with a bit of soy sauce type of deal and some spring onions.
its the bomb. sooo yum. SO YUM!

Next up there is a sizzling hot plate of vegetables and mushrooms. If you say you dont get excited by a sizzling hot plate at a restaurant then you are lying!! EVERYONE GETS EXCITED BY THEM! RIGHT? Well i do. I'm thinking I'm not alone on this one. Someone agree so i dont feel like a 5 yo.
My hairdresser told me she likes to eat enoki mushrooms because it makes her feel like she is eating noodles without the carbs. I thought this was funny and clever. I dont like them though because I cant chew them. My teeth dont work on enoki mushrooms.
On the right we have a salad dish. It's so yummy. I love lettuces.

On the left here we have a MISO EGGPLANT. Man this is the bomb. It's probs my favourite nobu dish. Or maybe its the tofu one. I dunno but this one is up there.
ZzzZzz I wish i could cook this. I imagine it has a bit of sugar in it.
I might of had 2 serves of this. Shoosh. ahhahah
On the right is some sushi. It had this interesting thing in it. I hope you can see it. It was kind of like a jalepino. But i think it was more like a pimento. Anyway. I loved it.
I dared D to scoff a massive lump of wasabi and he did and it was a stupid decision. He was in pain for a good 5 mins. AHAHAH funny for me though.

Anyway, little did we know, Nobu THE MAN HIMSELF was there for Melbourne Food Week or whatever its called and he was the head chef for the evening. He came and said hi to everyone in the restaurant. What a dude. I was suprised we could walk in and get a table without a booking. We must of been lucky. We did go quite late. Hmmm.
Drunken times then followed.
You can tell I was into it. Look at my messy hair. Hahahhahaaaaaa. Funny.
I pretending the cherries were nipples. I am classy. There was another photo with two lychees but i'm not even going to post that because it makes the nipples photo look ultra tame in comparison.
Ew.
Its hilarious though.

We got the dessert tasting plate and like an annoying bf D ate none so i had to eat it all and look like a fat pig. Thanks for the extra 3kg on my ass D.
HA.
I think i was kinda hoping he would eat it anyway. I loved it.
muahahah. so gross i ate the whole thing though? i need to walk it off tomorrow.
We did share a nice cognac though. We love cognac.
The weather is cooling down so cognac season will begin. YAY!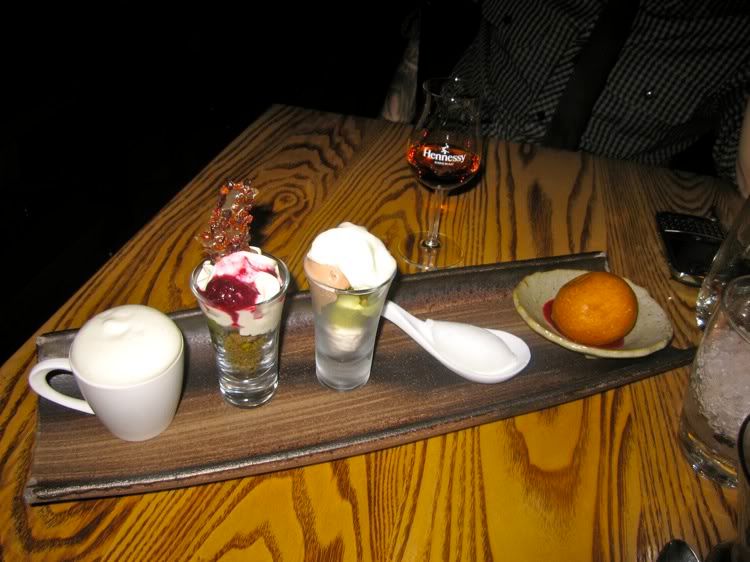 OOohhh This is my favourite of the desserts. The warm chocolate satandagi.
Its basically a donut with chocolate in the middle.
I took a photo of the chocolate oozing out just to share with you guys.
I hope you like it.
If you don't rate Japanese food or not into Nobu at least go for dessert one day to try this!
It comes with a raspberry sauce with pistachios in it.
ITS SOOOO GOOOOOD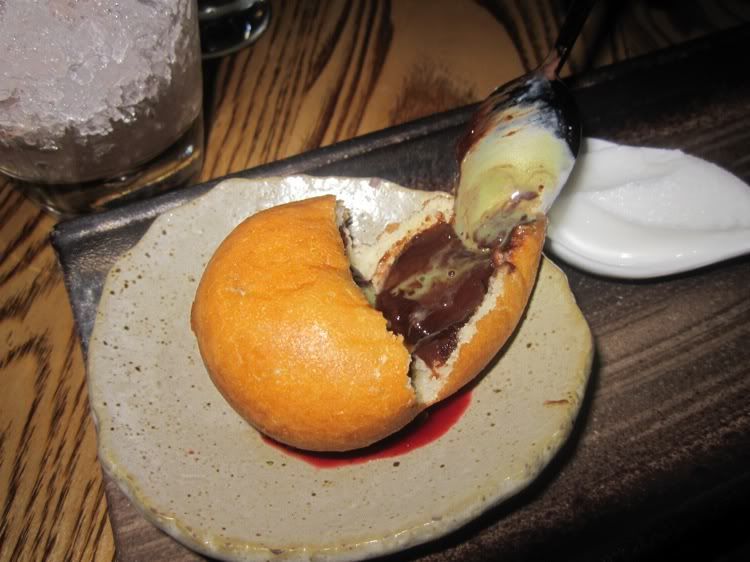 Ughhhhhh
its 2.30 and it's probs not the best time to write a blog.
i'm sure ill wake up tomorrow and have to retype the whole thing cuz it made no sense.
I cant be bothered doing it now cuz i need to watch an episode of greys anatomy asap.
I am watching season 1 for the first time and i need to see what happens asap.
It's tuesday tomorrow and tuesdays excite me for some reason. not sure why!
hope you all have a lovely tuesday!!!
goooddd niighhht :)